Provo, Utah — After defeating Brigham Young University 2-1 Friday night, the Kansas University softball team is two victories away from advancing to the NCAA Super Regionals for the first time.
The win upped Kansas' record to 36-25 and ended BYU's (43-22) season.
"That was one fabulous college softball game," Kansas coach Tracy Bunge said. "This is where this team wants to be. We are going to go out tomorrow and leave everything on the field and see what happens."
Kansas will face No. 14 Washington at 1 p.m. today at BYU's Gail Miller Field. Washington defeated KU, 6-0, in the first game of the day on Friday. Since Washington has gone through the Provo regional with an unblemished record, the Jayhawks will have to find a way to beat the Huskies twice today.
"We have to figure a way to calm their bats down," Bunge said. "We will have to do a better job of scoring runs. We'll see what happens."
For the second straight day, the BYU offense did not have an answer for Kansas pitcher Kassie Humphreys. After giving up a run in the first inning, the Jayhawk ace scattered eight hits as Kansas rallied to defeat BYU, 2-1, Friday night in the elimination game of the Provo Regional. On Thursday, Humphreys allowed only one BYU hit on a 3-0 first-round victory.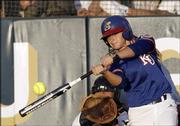 Kansas had only six hits, but they came at opportune times. Nicole Washburn led the attack by going 2-for-3 with one RBI.
Crisosto, Val Chapple, Heather Stanley and Nettie Fierros had the other four hits for Kansas
"We are not an offensive powerhouse," she said. "We are a team that has great pitching and defense, and we find a way to come up with enough runs to win."
In the afternoon game, Washington pitchers Danielle Lawrie and Caitlin Noble held the Jayhawk offense to one hit. Destiny Frankenstein came up with the hit in the fourth inning when she singled to right field. Serena Settlemier picked up the loss, allowing 10 hits and six runs in five innings of work. It is only the second time in 30 appearances that the Big 12 Player of the Year has allowed five or more runs and the first time this year she has given up 10 hits.
The loss was the first for Kansas since a 4-1 defeat to No. 23 Oklahoma on April 30.
Copyright 2018 The Lawrence Journal-World. All rights reserved. This material may not be published, broadcast, rewritten or redistributed. We strive to uphold our values for every story published.