GAZA CITY, Gaza Strip — A senior Hamas official Friday tried to sneak $817,000 into the Gaza Strip in a pouch under his shirt, the first major cash-smuggling attempt by an increasingly desperate Hamas government choked by Western sanctions.
Palestinian security forces confiscated the money at the Egypt-Gaza border, and Palestinian President Mahmoud Abbas - Hamas' main political rival - ordered a criminal inquiry. Abbas' decision was bound to raise tensions that already are high after police loyal to Abbas and a new Hamas militia exchanged fire earlier Friday.
Hamas demanded that the money - all in 500-euro bills - be returned, saying private donors abroad intended it for Gaza's poor. The alleged smuggler, Hamas spokesman Sami Abu Zuhri, "resorted to this way : when all other ways were blocked," said government official Ghazi Hamad.
"This money is donated from abroad; it was meant for poor people," Hamad said.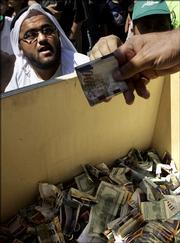 Hamas has been unable to bring in tens of millions in aid from Arab and Muslim countries because Arab banks, afraid to run afoul of U.S. anti-terrorism legislation, refuse to transfer the money. The West froze vital aid to the Palestinian Authority when Hamas, viewed by Washington as a terror organization, came to power in March. The new government has been unable to pay 165,000 civil servants, whose income feeds one-third of the Palestinians.
Hamas has been digging in, rejecting Western demands that it recognize Israel and renounce violence.
Instead it has launched fundraising drives in mosques, asking worshippers to donate. In one Gaza City mosque, about 500 people dropped cash and jewelry into collection boxes after Friday prayers.
The campaign appears largely symbolic, however, because the government needs $160 million a month to pay salaries and provide basic services.
Copyright 2018 The Associated Press. All rights reserved. This material may not be published, broadcast, rewritten or redistributed. We strive to uphold our values for every story published.