While Tom Cruise makes broken-field runs through exploding trucks and sinister villains in his latest movie blockbuster, the month's other major superhero is about to tackle eight opponents whose mission, likewise, is supposed to be impossible.
Barbaro, the impressive, runaway winner of the Kentucky Derby, can't be beat in today's 131st Preakness, the experts say.
Don't believe them.
Oh, the unbeaten Derby champ deserves to be favored to make it two-thirds of the way through horse racing's Triple Crown unscathed. He has opened as the even-money favorite and could end up the 4-to-5, or even 3-5, betting choice at Pimlico, with its colorful black-eyed Susans and snug, tight turns.
If the Michael Matz-trained dark bay runs back to his trouble-free race on the first Saturday in May, he will win this thing going away, too.
But history suggests it doesn't always work out that way.
Victory in the Derby, no matter how decisive, doesn't necessarily translate to success in the Preakness. In 2000, Fusaichi Pegasus rolled to a brilliant first-place finish at Churchill Downs, suggesting he was easily the class of that season's 3-year-olds.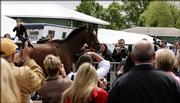 Then he bombed in Baltimore, finishing a badly beaten second as the 3-to-10 choice to an upstart named Red Bullet.
Same thing in 2001. Monarchos roared through the stretch to capture the Derby, then barely made a ripple at a Preakness dominated by Point Given, who bounced back from a traffic-marred trip in Kentucky.
No fewer than five other times since 1996, including last year when Afleet Alex rebounded after a third-place Derby finish, has a horse who went flat in Louisville come back to win in Maryland.
The same thing could happen this time.
The trainers of Brother Derek and Sweetnorthernsaint certainly hope so. Both feel their colts' chances were compromised by terrible trips in Louisville.
"A half-step out of the gate, our plans went up in smoke," said Mike Trombetta, who saddled Sweetnorthernsaint, the colt who was the Derby favorite.
Dan Hendricks, with time now to reflect, thinks his horse might have lost all shot at winning the Derby the day the post positions were drawn. Given a choice of the No.3 or No.18 post, Hendricks chose the latter.
Asked if he would change if he could pick again, Brother Derek's trainer never hesitated.
"Definitely," he said, and one look at the tape, watching his colt go six wide early, then nine wide around the far turn and into the stretch before rallying to finish in a dead-heat for fourth, and you can understand why.
The Preakness, with nine horses entered instead of the 20 who went in the Derby, should offer both Brother Derek, who drew the much better No. 5 post Wednesday, and Sweetnorthernsaint, who landed No. 7, the opportunity to run the kind of race they had planned in Kentucky.
Whether that's good enough to beat Barbaro, who looked every inch like a superstar in the Derby and got the No. 6 post in the draw, remains to be seen.
"I'm hoping if we get a good trip, I can outrun him," Hendricks said, referring to himself as if he were Brother Derek. "All I can hope is that I can out dogfight him."
Besides a smaller field and a different style track, the Preakness should provide a scenario much more to the liking of the two contenders who were disappointments at Churchill Downs.
Some think Sweetnorthernsaint will be the pacesetter this time, perhaps trying to go wire-to-wire in this shorter, thirteen-sixteenth-mile event. Brother Derek figures to be right there, as well, and if the fractions aren't what his jockey, Alex Solis, prefers, he, too, could go to the lead and try to win the way he did in the Santa Anita Derby.
Solis would love to play a little dejà vu, repeating what happened 20 years ago when his mount, Snow Chief, lost the Kentucky Derby to Ferdinand, then reversed that finish by beating his nemesis by four lengths in the Preakness.
If not, well, there aren't many other animals in this race who seem to have a legitimate chance.
In horse racing parlance, fresh horses who enter big races are called "new shooters," and for the most part, they haven't had much success in the Preakness.
The last new shooter to win was the aforementioned Red Bullet, the only one to pull it off in the past 20 years.
The trend shouldn't change this year. Some of these newcomers have speed to challenge the pace early, but all of them, including Diabolical, Greeley's Legacy, Platinum Couple, Bernardini, Like Now and Hemingway's Key, seem a cut below the Big Three in this race.
Maybe Hemingway's Key, who happens to be owned by one George Steinbrenner, will have a bit more incentive to run a strong race. If he doesn't, well, The Boss might just decide to fire him.
This Preakness isn't about Steinbrenner, though. It is about Barbaro.
Matz, the celebrity trainer nobody knew three weeks ago, created a stir when he maintained a five-week layoff for his unbeaten colt heading into the Derby.
Now people wonder how Barbaro will react to just a two-week rest between races.
"Well, now the table's turned, isn't it?" Matz said. "But that's what we were planning for with the five weeks off."
Clearly, Matz's blueprint wasn't geared to winning just the Kentucky Derby. It was to win the Triple Crown.
Confident he had the best horse, he also wanted to have the freshest.
Barbaro certainly looked the part in the Derby.
But as history reminds us, those looks sometimes can be deceiving once the Preakness gate clangs open.
Copyright 2018 The Lawrence Journal-World. All rights reserved. This material may not be published, broadcast, rewritten or redistributed. We strive to uphold our values for every story published.