It seemed innocent enough. After all, it was just a tan rock.
Cheryl Lowrance bought the small boulder for $6 at an auction. She used a jean jacket as a sling to carry it to Butch, her rusty Datsun pickup. From there, it was back to her mobile home, where the rock served as decoration outdoors.
Lowrance had no idea what she was getting herself into.
A few years later, when she bought a home in East Lawrence, she realized grass and plants wouldn't grow under the towering sycamore trees out front. She tilled up the weeds, bricked off a section of her yard and put down some mulch.
If she couldn't have a garden the natural way, she'd buy one at Hobby Lobby.
Today, that tan boulder is still out front of Lowrance's house. But it's surrounded by dozens of wildly colored metallic flowers and a menagerie of critters made of metal, concrete and stained glass, most of which she bought at the hobby store.
There are metal bugs hanging from real plants and birds with springy heads that move in the breeze. There are kittens, frogs, mushrooms, turtles, butterflies and a gangly woman with wind chimes as arms.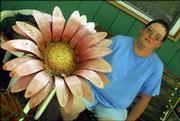 Recently, a 5-foot-tall bird with a sticker price of $100 caught Lowrance's eye.
"I won't lie and say I hadn't thought about it," she says.
'Shades of gray'
In the world of pink flamingos, stubby garden gnomes and wood panels painted to look like your grandmother's overall-clad behind, the line between tacky decoration and art is in the eye of the beholder.
"You could say that genuine artwork requires aesthetic decisions, whereas that first gnome might be an impulse buy," says John Hachmeister, a sculpture professor at Kansas University.
Hachmeister studies folk art and has worked to preserve the "Garden of Eden" in Lucas, a collection of fancy yard art considered one of the finest folk art collections in the world.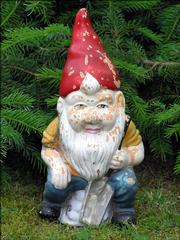 "When you look in parts of Lawrence when they're first built, you can't tell a house from a house," he says. "We like to be able to identify and mark what it is that's ours. This (yard decoration) says, 'This is my mark, and here I am.' It shows I exist in a very tangible, concrete way."
Hachmeister doesn't think most artists attuned to the world of avant-garde art would find yard decorations tacky - even the plastic varieties.
"I'd like to see people be a little more emboldened," he says. "You want to get along with your neighbors, but you should be able to say, 'Hell with it. I don't care whether it's art or not.' It's not black or white. There are all these shades of gray in between."
Or sometimes, they're shades of pink. Bright pink.
Pretty in pink
The plastic flamingo has become a poster child, er, bird for lawn kitsch since it was developed in its current form in the 1950s.
Cyrilla Loria has had her flock of birds out long enough their original pink coating has faded. She's had to spray-paint them with a color known as "electric pink."
She had 56 flamingos outside her home at 701 E. 550 Road before most of them were stolen last month. Now, she has a modest 13 birds, barely enough to recreate the flamingo nativity scene she made for Christmas 2004.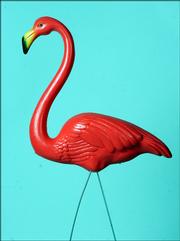 The idea for a large flock was planted in Loria's head by her truck-driving nephew, who saw a house in Texas with several hundred plastic birds. Twenty friends got Loria on her way by each giving her a flamingo for her 50th birthday.
"My neighbors kind of like it," she says. "It gives somebody something to smile about when they drive down the road. It's, 'Look at that crazy woman with all the birds.'"
Matrimonial moose
Not all lawn ornaments are so flashy.
The rusty moose lumbering in Galen Thies' front lawn is much more subdued.
The 6-foot-long moose has special meaning for Thies and his wife, Heather. It was a wedding gift from a friend six years ago.
They planted it in the front lawn of their house at 1630 W. 22nd St.
Then, when daughter Amelia was on her way, Heather's father special-ordered a smaller moose calf to display next to the grown-up moose. Since then, they have added three cats clustered near their trees.
They have to weed-eat around the metal animals, and occasionally have visitors sneak into their yard to snap a photo with the beasts. But generally, they've found the animals to be pleasant.
"Once you get into yard art, it's hard to stop," Thies says. "I hope we can draw the line before gnomes."
'Come to life'
Lowrance has no intention of drawing that line soon. She's thinking of expanding her metallic-flower bed at 1519 Powers St.
"It's only a year old," she says. "It's still a baby. ... This has been kind of a project the past year. I'm always adding something new."
When fall arrives, she'll tear out the flowers and the animals and replace them with Christmas decorations, which are equally elaborate. After all, she says, "it would be silly to have flowers out in the middle of winter."
"But come spring," she says, "it'll come to life again."
Flamingo v. gnome
If the two most treasured lawn ornaments battled for supreme domination of the World of Yard Kitsch, who would win? We size up the competition.
FLAMINGO Build: Long, gangly legs make it top-heavy and easy to knock over. Age: Current version first created in mid-1950s. Popular support: 1972 John Waters movie and North Lawrence strip club named for it. Mobility: Could fly ... if it was a real bird. As it is, best chance for flying is a gusty wind. Namesake: Flamingo, Fla. Camouflage: Bright pink color makes guerrilla warfare impossible. Posse: Fundraisers based around leaving dozens of pink birds in friends' yards overnight.
GARDEN GNOME Build: Short and stocky. Low center of gravity. Age: Can be traced back at least to the 1870s. Popular support: Logo for Travelocity Web site. Appearance in movie "Amelie." Mobility: Long-running practical jokes send gnomes around the world for photos with landmarks. Namesake: Nome, Alaska (silent "G" dropped to stifle confusion) Camouflage: Subdued paint job often lets them hide among plants. Posse: Gnome Liberation Front groups have organized around the world - and especially in Europe - to steal gnomes from gardens and take them to the woods.
Copyright 2018 The Lawrence Journal-World. All rights reserved. This material may not be published, broadcast, rewritten or redistributed. We strive to uphold our values for every story published.