STILLWATER, OKLA. — Two victories shy of his 800th win, Eddie Sutton decided it was time to leave college basketball and let his son coach Oklahoma State.
The 70-year-old coach retired Friday, ending a 36-year career in which he made three trips to the Final Four and became the first coach to take four schools to the NCAA Tournament.
He had considered returning to Oklahoma State after a Feb. 10 car accident that led to no contest pleas to drunken driving and other charges.
"This decision is about simply what's best for me and what's best for the basketball program at Oklahoma State," Sutton said at a news conference.
His retirement takes effect June 30. He will be succeeded by Sean Sutton, who was an assistant on his father's coaching staff and had taken the job on an interim basis.
Eddie Sutton plans to work in a new alcohol education and support program at the university.
"People today in our country know a lot more about alcoholism, but there's still people that don't know what the disease is, how it affects someone as a person," he said. "It's really slow suicide if you drink."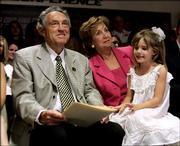 Sutton had a 798-315 career record at Creighton, Arkansas, Kentucky and Oklahoma State. He reached the Final Four with Arkansas in 1978 and with Oklahoma State in 1995 and 2004.
Only Dean Smith (879), Adolph Rupp (876), Bob Knight (869) and Jim Phelan (830) have more career wins among men's NCAA coaches.
"It is now time for us to come together as a family again and support a new era in Cowboy basketball," he said. "If given your support, I believe Sean can take this program to even greater heights. He has the tools, knowledge and experience. I believe Sean can take this program all the way to the top."
Sutton started this season needing 19 wins for No. 800 and said he likely would retire at the end of the season even if he didn't reach that mark.
After the Feb. 10 accident, Sean Sutton took over while Sutton was on a medical leave and picked up four wins on his father's behalf but fell two short of 800.
"I always thought it would be neat to be one of the coaches to win 800," Eddie Sutton said. "But I thought it was wrong in that if I retired after those two games it really puts more pressure on Sean."
Sutton played for longtime Oklahoma A&M; coach Henry Iba and his name is emblazoned on the court at Gallagher-Iba Arena. With a staunch defense inspired by Iba, Sutton took his teams to the NCAA Tournament 26 times.
Copyright 2018 The Associated Press. All rights reserved. This material may not be published, broadcast, rewritten or redistributed. We strive to uphold our values for every story published.