Provo, Utah — Fresh off being named the national player of the week, Kansas University's Kassie Humphreys showed no signs of a slowdown Thursday.
The junior right-hander struck out 11 and gave up only one hit in leading KU to a 3-0 victory over host Brigham Young University in the opening round of NCAA regional softball play at Gail Miller Field.
With the victory, the Jayhawks (35-24) extended their winning streak to eight games, including five postseason contests. They also avenged a February loss to BYU (42-21) in the Louisville Slugger Desert Classic at a neutral site in Las Vegas.
"It wasn't necessarily the prettiest game in the world," KU coach Tracy Bunge said. "But our team continues to do some good things offensively, and Kassie continues to throw well for us. So we definitely have continued on the roll we've been on the last few weeks."
The Jayhawks scored all three of their runs in the bottom of the fourth inning. KU third baseman Val Chapple singled to lead off the inning and, after advancing to third on a sacrifice bunt and BYU error, beat the throw home on a ground ball to Cougar shortstop Andrea Ramirez to make it 1-0.
Heather Stanley capped the scoring with a two-out single that trickled into left field to drive in two more runs and give KU a 3-0 advantage.
Photo Gallery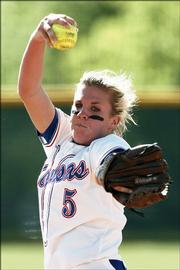 KU softball vs. BYU
"I talk to my team a lot about (how) championship teams find a way," Bunge said. "Championship teams take advantage of other teams' mistakes. We did a really good job of that (in the fourth inning) - you look at the inning, and we easily could've come out of it with just one run scored, and instead we were able to pick up three because we were aggressive on the bases."
Humphreys began the game in dominating fashion, striking out the side in the first inning. But in the second frame, she ran into trouble with her control and walked the bases loaded.
"I wasn't getting (called strikes on) the corners as much as I would've liked," Humphreys said. "I was a little frustrated with that, but I also felt like I wasn't getting ahead of hitters, and that was my fault that inning. After that I just decided to put the ball more over the plate and let them hit the ball and let the defense do the work."
After escaping the second inning unscathed, Humphreys didn't allow any BYU baserunners past second the rest of the game.
According to Bunge, her team isn't content with its recent string of success.
"I don't think this team is satisfied with what they accomplished last week (at the Big 12 tournament)," Bunge said. "I see it in their eyes that they're hungry. This team believes it can go a long, long way. They're playing with an extremely high level of confidence that they can go very, very deep into this tournament."
The Jayhawks advance into the winner's pool and will face Washington, which defeated Southern Utah, 8-0, Thursday night in a game shortened to five innings. First pitch is today at 2:30 p.m. local time.
Copyright 2018 The Lawrence Journal-World. All rights reserved. This material may not be published, broadcast, rewritten or redistributed. We strive to uphold our values for every story published.