Matt Baty has been around Kansas University baseball since he was a high schooler from Wichita, watching older brother Ryan stand out on teams that never played for much on the season's final weekend.
To this day, Matt remembers. Along with Ritchie Price and Don Czyz, Baty is one of three players who has been here for the entire Ritch Price era. Price, KU's fourth-year coach, has fielded squads that consistently have had something to play for late. This year is no different.
"I talk to the younger guys about where this program's come from," Baty said. "I get it a little more than Ritchie or Donnie because my brother played here."
Ryan Baty will be in attendance for the final series of the regular season, a three-game set with Texas A&M; that starts at 7 p.m. today at Hoglund Ballpark.
The two teams will meet at 6 p.m. Saturday and 1 p.m. Sunday to close out the regular season. Sunday's game will be set aside to honor Baty, Ritchie Price, Czyz and five other seniors.
"It's going to be a little different," Baty said. "An emotional weekend."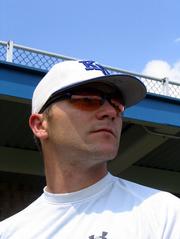 Though the Jayhawks already have clinched a berth in next week's Big 12 tournament, what seed they enter postseason play with still is being fought over. In addition, KU is playing for a spot in the 64-team NCAA tournament. At 35-23 on the season playing a difficult schedule, the Jayhawks firmly are on the bubble.
"I really feel," Baty said, "that this year's got to be the year to make the NCAA tournament."
Problem is, Texas A&M; is fighting, too - the Aggies technically are still clawing for a Big 12 tournament berth, entering today's game with a 25-27 record and a 6-17 mark in Big 12 play. They need a solid weekend at the expense of the Jayhawks - and some help - to get an invitation to Oklahoma City for the conference tournament.
Kansas (10-14 Big 12) is just 4-7 since April 28, a stretch that includes losses to Oklahoma, Texas and Northern Colorado. Pitching is what Ritch Price sees as a primary reason, and it's been a focus during practices this week.
"All the pitchers were in (Monday) having one-on-ones to figure out what adjustments we need to make there," Price said earlier in the week. "Obviously, we have to pitch better."
Kodiak Quick (9-4, 3.53 ERA) will go tonight, likely against A&M;'s Jason Meyer (3-3, 2.93). KU's Sean Land (5-6, 5.18) will pitch Saturday, and Ricky Fairchild (5-6, 5.92) is scheduled to throw Sunday.
Kansas still is shooting for a 40-victory season, and there's a guarantee of six games left before NCAA judgment day - three against A&M;, and three in the Big 12 tournament.
With seniors like Baty in their ear, KU players are aware that the team's play in the last two weeks won't be enough.
"We just took a couple of steps back," Baty said. "We're finding teams right when they're starting to get hot. Maybe this weekend, we can be that team."
Copyright 2018 The Lawrence Journal-World. All rights reserved. This material may not be published, broadcast, rewritten or redistributed. We strive to uphold our values for every story published.