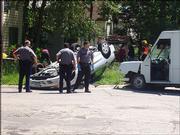 No one was seriously injured after a rollover accident this afternoon at the intersection of 13th and Connecticut streets.
A white Chevrolet Cavalier had flipped over in the intersection after the car's driver ran a stop sign, said Kim Murphree, a Lawrence police spokeswoman.
A 1993 UMC van of the Heartland Fire & Safety Equipment Co., driven by a 31-year-old Baldwin woman, was headed south at 2:18 p.m. on Connecticut Street and struck the driver's side door of the eastbound car on 13th Street after the car ran the stop sign, Murphree said.
The delivery van had sustained damage to its hood and front.
Medics from Lawrence-Douglas County Fire & Medical treated the driver and passenger of the car, both 18-year-old Missouri males, at the scene, Murphree said. The van's driver was not injured.
"The fact that all occupants of both vehicles were wearing seat belts contributed significantly to the fact that there were only minor injuries in this accident. It could have been much worse," Murphree said.
She was unaware if officers issued any tickets at the scene.
Copyright 2018 The Lawrence Journal-World. All rights reserved. This material may not be published, broadcast, rewritten or redistributed. We strive to uphold our values for every story published.