Mount Merapi, Indonesia — Children kicked soccer balls in the shadow of Mount Merapi's glowing peak on Wednesday, and farmers climbed the slopes of the volcano to collect grass for their cows.
Hours later, the volcano shuddered violently and sent a cloud of hot ash and gas high into the air - a vivid demonstration of its dangers after 48 hours of relative calm.
Thousands of people live on the volcano's slopes, and many have refused to leave the area declared off-limits since Saturday. Some 5,000 went to shelters set up in schools and tents.
Witnesses said the eruption late Wednesday afternoon appeared smaller than the mountain's most violent sputterings Monday, when ash and gas clouds surged around 2 1/2 miles from the peak.
"There is nothing to worry about here," said Warkijho, a 55-year-old farmer who has refused to leave, like many in his village inside the government-ordered evacuation zone. "The scientists may be concerned, but in my heart I know it is safe."
Despite the 48-hour period of relative calm, experts said the 9,800-foot mountain in the heart of Java Island remained dangerous, and volcanologists are keeping the mountain on 24-hour watch.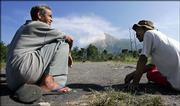 A huge lava dome that has built up over the mountain's slow-burn eruption in recent weeks was still perched atop the crater, and could collapse, triggering a deadly surge of ash and gas, scientists have warned.
President Susilo Bambang Yudhoyono met with some villagers who fled the volcano Wednesday, and urged those who have not yet done so to leave. On Tuesday night, Yudhoyono and his wife stayed in a tent among the refugees.
Most of those refusing to leave the evacuation zone are farmers with crops to tend or animals to feed.
Mount Merapi, which translates as "Fire Mountain," has erupted scores of times over the last 200 years, often with deadly results. It is one of the world's most active volcanoes.
Copyright 2018 The Associated Press. All rights reserved. This material may not be published, broadcast, rewritten or redistributed. We strive to uphold our values for every story published.