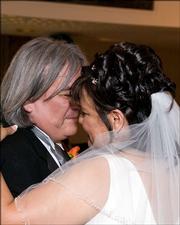 Just weeks ago, Anita Arkeketa-James was in full panic mode.
The 50-year-old bride-to-be was practically in tears trying to find a hairstyle for her big day. The problem was, her coarse, graying hair simply wouldn't hold a style. After a few unsuccessful visits to upscale stylists who informed her that her hair was hopeless - and a disastrous bridal show makeover that left her looking like Medusa - Arkeketa-James became desperate.
"There are days when you just wanna cut it all off, you know, be bald or something," she says.
But after a fortunate visit to Fantasy Hair Salon, 1420 W. 23rd St., just one week before her wedding, Arkeketa-James left crying. Only this time, the tears weren't out of disappointment.
Salon employees had spotted a story about Arkeketa-James' tress stress in the April 17 Journal-World and offered their services for free. She took them up on the offer, and stylist Chris Hayes transformed her unruly hair into an elegant, curly updo. He also colored Arkeketa-James' hair a deep chocolate with a semi-permanent rinse that infused the do with an extra dose of shine. Arkeketa-James loved the style so much she returned on April 29, her wedding day, to recreate it.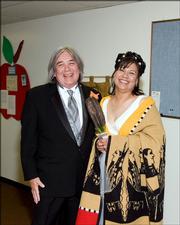 "It was beyond what I ever even imagined," Arkeketa-James says. "I felt like I looked 15 pounds lighter and 10 years younger. It's just amazing what she did."
Unlike Arkeketa-James' previous stylists, Hayes wasn't intimidated by her client's hair and knew immediately what to do with it.
"As soon as she sat down, I kind of looked at her like, 'How come nobody can seem to do this?' I mean, she just had a little bit of gray," Hayes says. "It all started coming together. She was in here for two hours and left here in tears and was just so happy."
Later that day, with her hair perfectly coiffed and her confidence restored, Arkeketa-James married her college sweetheart, Jesse James Jr. Finally, she says, her hair matched her happiness.
"I was very proud to walk down the aisle and hold my head way up high," she says. "I was very confident and very happy, and I felt so beautiful. I really felt like I looked how I felt."
Copyright 2018 The Lawrence Journal-World. All rights reserved. This material may not be published, broadcast, rewritten or redistributed. We strive to uphold our values for every story published.