One year ago, at a place where he's always loved to race, Mark Martin had one of those magical moments.
The 2005 NASCAR Nextel All-Star Challenge at Lowe's Motor Speedway had some of the fender-banging and fist-shaking that has marked that event since its inception in 1985, but most of it came early.
Near the end of the 40-lap first segment, nine cars piled up in the frontstretch, and that left Joe Nemechek and Kevin Harvick exchanging pleasantries in grand all-star tradition. "Kevin Harvick thinks he owns the world and he ain't squat," Nemechek said. "... He's just being an idiot, just being Kevin."
In the end, however, the 2005 edition of the non-points event was less about confrontation and more about coronation. Martin jumped past Elliott Sadler on the restart of the final 20-lap segment and spent the final 19 laps doing exactly as much as he needed to do to win going away in his No. 6 Ford.
For whatever it might have lacked in drama, Martin's victory made up for it in emotion.
In what was to that point still supposed to be his final season as a full-time Nextel Cup driver, Martin had won the challenge in dominating fashion.
He'd won the all-star event in 1998, but on that night he'd merely inherited the win as Jeff Gordon inexplicably ran out of fuel just after taking the white flag.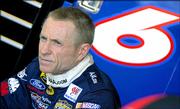 Martin was grateful for that good fortune, of course, but it was just different - and immensely more satisfying - to win it the way he did the second time around.
"I felt like I made the largest contribution in my career to winning a race," Martin said. "Every move I made, luckily, was the right move. I drove probably uncharacteristically aggressive, and everything that I did on the track happened to turn out to be the right thing."
Caught up in the joy of that victory, Martin was barely past the checkered flag when he radioed his crew and told them that if they'd give him a car to drive, he'd be back in 2006 to try to defend his title in the Challenge.
At the time, Martin thought running the all-star race again would be no more than a competitive cameo against the Nextel Cup drivers he's raced with and against with such distinction. The plan was for Martin to be a full-time driver in the NASCAR Truck Series this year.
Plans, of course, change.
Within a few weeks after his All-Star Challenge victory last May, word spread that Jack Roush might need Martin for one more year. Kurt Busch had decided to leave Roush Racing at the end of his contract after the 2006 season, but wanted out a year early. Sponsorship sands also were shifting beneath the five Cup teams that Roush, Martin's longtime car owner and friend, was fielding.
"I went in to February at Daytona not knowing what to expect and very concerned that it might be a tough year for me to meet it with the kind of fire that I needed to," he said. "But it feels like home when I strap into that race car. ... The fans have been overwhelming with their response to my coming back. I'm living a dream."
Copyright 2018 The Lawrence Journal-World. All rights reserved. This material may not be published, broadcast, rewritten or redistributed. We strive to uphold our values for every story published.