It wasn't a perfect day for Free State High's baseball team.
Not quite, at least.
"We started a little slow versus Leavenworth," junior Ben Wilson said, "but we picked up the intensity and got the job done."
The team did that and a little more, rolling to a state berth with convincing 13-3 and 15-0 run-rule victories over Leavenworth and Washburn Rural on Wednesday at FSHS.
It will be the Firebirds' fourth consecutive appearance at the state tournament, which begins May 26 in Wichita.
"We've talked a little bit about their legacy and what they want to leave the program," Free State coach Mike Hill said. "I think (the four state teams) are different clubs, but all of them have one commonality - and that is that they win."
Things didn't start out well Wednesday for Free State.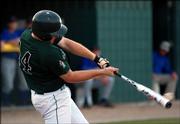 First, the regional games were delayed nearly two hours because the fields had been over-watered.
Then, the Firebirds fell in a 3-0 first-inning hole against 1-19 Leavenworth. FSHS committed two errors and looked the part of a nervous team.
"I'm kind of glad there was a game going on for a few innings," Hill said. "The last thing we wanted was to go out there, play a few innings and get a false sense of security."
Free State responded to the scare - and didn't let up. The Firebirds outscored their opponents 28-0 over the next 10 innings.
"Once we sat in and got comfortable," Free State senior Travis Blankenship said, "that's when our bats came alive."
Free State broke it open against Leavenworth with a seven-run third inning, capped by Brett Lisher's RBI double.
Travis Ice's bases-loaded walk invoked the run rule in the seventh.
In Game Two, Free State was never challenged, taking advantage of a thin Washburn Rural pitching staff.
Wilson cleared the bases in the first, unloading a three-run triple to make it 4-0 Free State.
"It's good having your offense," Wilson said, "being able to back up your pitching."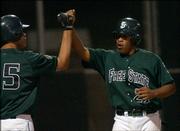 In actuality, Blankenship didn't need much of it in his four innings of work.
Entering the game with an earned-run average of 0.81, the senior was nearly unhittable again, allowing just one hit in a complete-game shutout.
Wilson added a double and infield single, finishing 3-for-3 with three RBIs.
Andy Petz and Scott Heitshusen each added a pair of extra-base hits, and Ice again contributed the walk-off RBI, sending a two-run triple into right to score runs No. 14 and 15.
Free State's players stayed on the field a few extra minutes afterward with the regional championship plaque.
"The pictures with that trophy are important, and I have no intentions of minimizing that," Hill said. "But the kids : they want a different one."
Free State (19-3) will have over a week to prepare for the opening-round matchup.
Copyright 2018 The Lawrence Journal-World. All rights reserved. This material may not be published, broadcast, rewritten or redistributed. We strive to uphold our values for every story published.