There were just a few teams left on the fields at Youth Sports Inc. in the late afternoon Saturday. Two of them were the Silly Willy Weasels and the Wizards locked in a U13 battle on field 12.
The Wizards struck twice late in the first half and used their defense to keep the Weasels out of the net and come away with a 2-0 victory.
"Our forwards did a good job of staying up and our defense was really strong, especially in the second half," said Wizards midfielder Michelle Stockwell.
Possession time was back and forth the entire game, but the Wizards simply capitalized on two of their runs while the Weasels had trouble converting their shots on goal.
One Wizard forward was always on the attack and nailed one goal late in the first half. Anna Balmilero snuck another shot past the Weasels goalie before changing positions to goalkeeper herself for the second half.
"Scoring is always nice, especially when you end up winning the game in the end," Balmilero said.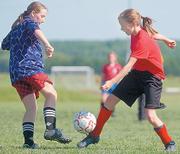 Most impressive was the fact that the Wizards accomplished the victory without having any subs, something they're actually used to doing.
"We're 4-1-1 and the only time we lost was the only time we had enough players for substitutions, so it's kind of ironic that we got the win again today," Stockwell said.
The Weasels had some subs and also some chances to get goals of their own, but were just unlucky at the net. Logan Hassig had to leave before the conclusion of the game to make it to another event on time. Up to that point, Hassig had been controlling the ball and helping out the Weasels on defense.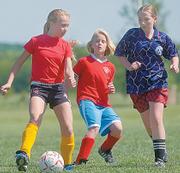 The Silly Willy Weasels (2-2-1) said they have played pretty well this season and despite the the setback to the Wizards were happy with their overall play.
"Either way, we worked really hard and played as a team and that's what matters most," Weasel Emma Woodard said.
While they certainly worked hard, many of the Silly Weasels players admitted that they need to make better, smarter passes and win more free balls next time if they want to come out on the winning end of things.
"To win we just need to play harder," Alyson Oliver said. "We'll just try to keep getting better as we play.
Both teams will have at least one more attempt to end the season on the upswing with a final game remaining before having to decide what summer sports they might play. As the Wizards scattered and the Silly Willy Weasels joined for a group cheer and group hug, one thing was sure, no one was leaving the field unhappy.
Copyright 2018 The Lawrence Journal-World. All rights reserved. This material may not be published, broadcast, rewritten or redistributed. We strive to uphold our values for every story published.