Forgive Mark VanOrder if he turns his nose up at your run-of-the-mill iceberg lettuce.
"I'm sorry," he says, "but that is not lettuce. That's lettuce-flavored water."
If you want a little more variety - and a little more flavor - to your salad, VanOrder can give you 15 choices from his garden.
That's the varieties of salad greens that VanOrder, co-owner of Sage Moon Naturals, 1480 N. 1700 Road, has planted this season.
"It's actually kind of overwhelming," VanOrder says. "If you look at seed catalogs, there are hundreds of varieties of lettuces. There's almost as many of those as there are of tomatoes."
Gone are the days of simply making a salad out of iceberg or even romaine lettuce. It's not difficult to find a mix of greens that fits your taste.
Michael Levy, owner of Westside Deli & Bistro, 4931 W. Sixth St., warns away from iceberg lettuce for salads because it's high in water content and dilutes dressings.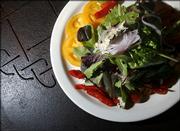 One factor in deciding which greens to use, Levy says, is the makeup of your salad. Thicker greens such as romaine or bib lettuce are better for salads that will have a lot of meat or chunky vegetables. They're also better if you know you want to use a heavier dressing.
"If you've got a Cobb salad and you put all that stuff on top of baby greens, you'd kill it," he says. "The taste of the baby greens would be lost on all the meat and cheese of the salad."
But if you're looking for a lighter salad, baby greens might be the way to go. That's the generic term for smaller, leafy greens that often are picked before they're full-sized.
Mixes of baby greens are available both at farmers markets and at the grocery store.
They range in flavor from peppery or spicy (such as arugula) to bitter (endive) to more of a traditional greens taste (spinach).
"A lot of it is entirely a matter of personal taste," VanOrder says. "Some people don't like the bitter or spicy greens."
And don't let the generic term "greens" fool you - there are plenty of leafy additions to your salad that are reddish in color. Those include radicchio, red leaf lettuce and certain types of kale and mustards.
Photo Gallery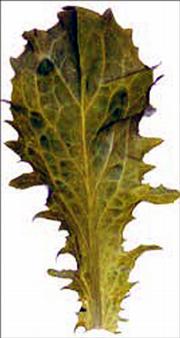 Salad greens
A few possibilities to consider
When it comes to selecting greens, Levy says go with your gut when looking for quality.
"On any of those lettuces, when picking them out at the grocery store, you're looking for the most crisp and the least wilted," he says. "You don't want any brown spots on any of it."
In Kansas, most greens will be available from now until mid-June and again in the fall. The plants don't like the heat and quickly go to seed when it turns hot.
If you're looking to branch out into new types of greens, VanOrder suggests doing easy on the dressing to get the full effect of the salad.
"You don't want to put a relay heavy dressing like a strong vinegar-olive oil dressing on baby greens," he says. "You'll overwhelm their taste. You might just do sunflower oil or lemon juice."
Salad dressing recipes
Caesar salad dressing
6 cloves garlic, mashed and minced
1 tablespoon Dijon mustard
1 tablespoon vinegar
2 tablespoons mayonnaise
1/2 cup olive oil
Salt
Pepper
Lemon juice
Minced anchovy fillets (optional)
Combine garlic, mustard, vinegar and two pinches of salt in a blender and mix thoroughly. Add mayonnaise and blend together to form a thick base. In a slow stream, add olive oil through hole in lid. Scrape dressing with spatula into a bowl and season to taste with salt, pepper and lemon juice. If desired, add anchovy to dressing to create a deeper, saltier taste.
Source: www.foodnetwork.com
Smoky green chile ranch dressing
1 cup low-carb ranch dressing (recommended: no more than 1 carb per 2 tablespoons)
1 (4-ounce) can diced green chiles, drained
2 teaspoons chipotle pepper sauce (recommended: Tabasco)
1 teaspoon finely chopped cilantro leaves
1 clove garlic, minced
Whisk all the ingredients together in a bowl. Refrigerate until needed.
Source: www.foodnetwork.com
Whole-grain mustard dressing
1/2 teaspoon grainy Dijon mustard
2 tablespoons red wine vinegar
Kosher salt and freshly ground black pepper
6 tablespoons extra-virgin olive oil
Mix dressing ingredients.
Source: www.foodnetwork.com
Honey-lime dressing
1/4 cup fresh lime juice
1/4 cup olive oil
2 tablespoons honey
2 tablespoons finely chopped fresh cilantro (or more to taste)
1 garlic clove, peeled and minced
1 teaspoon chopped jalapeño pepper (use canned for less heat)
Mix dressing ingredients.
Source: www.epicurious.com
Spicy ranch dressing
1 3/4 cups buttermilk
1/2 cup mayonnaise
2 tablespoons chopped green onion
2 tablespoons chopped fresh parsley
1 tablespoon apple cider vinegar
1 garlic clove, minced
1/2 teaspoon grated lemon peel
Whisk 3/4 cup buttermilk, mayonnaise, chopped green onion, chopped fresh parsley, apple cider vinegar, garlic, lemon peel and 1 1/2 teaspoons seasoning mixture in medium bowl until well-blended. Season dressing to taste with salt and pepper. (Can be prepared one day ahead. Store remaining seasoning at room temperature. Cover and refrigerate dressing.)
Source: www.epicurious.com
Lemon garlic dressing
1 garlic clove
1 teaspoon salt
4 tablespoons fresh lemon juice
2 tablespoons white-wine vinegar
1/2 teaspoon freshly grated lemon zest
freshly ground black pepper to taste
3/4 cup extra-virgin olive oil
Mince garlic and mash to a paste with salt. In a bowl whisk together garlic paste, lemon juice, vinegar, zest and pepper and whisk in oil until emulsified. (Dressing may be made one day ahead and chilled, covered. Bring dressing to room temperature before serving.)
Source: www.epicurious.com
Buttermilk dressing
1/2 cup well-shaken, low-fat buttermilk
2 tablespoons low-fat sour cream
1 tablespoon mayonnaise
3/4 teaspoon finely chopped fresh tarragon or 1/4 teaspoon dried tarragon, crumbled
1/2 teaspoon minced garlic, mashed to a paste with 1/4 teaspoon salt
1/4 teaspoon dry mustard, or to taste
Whisk together all dressing ingredients in a small bowl with salt and pepper to taste.
Source: www.epicurious.com
Zesty oil-free dressing
1/2 cup undiluted evaporated lowfat milk
1/2 cup tomato sauce
2 tablespoons cider vinegar
1 tablespoon lemon juice
2 teaspoons finely chopped fresh parsley
1 teaspoon finely chopped onion
1 teaspoon Dijon-style mustard
1/4 teaspoon salt
1/4 teaspoon black pepper
In small bowl, combine all ingredients. Refrigerate thoroughly. Serve over favorite salad ingredients.
Source: www.recipesource.com
Copyright 2018 The Lawrence Journal-World. All rights reserved. This material may not be published, broadcast, rewritten or redistributed. We strive to uphold our values for every story published.