New York — Since Joe Paterno and Bobby Bowden failed to meet the qualifications for induction into the college football Hall of Fame, the folks who run the hall simply changed the rules.
Instead of requiring a coach be retired, the National Football Foundation decided to make any active coach over 75 eligible for induction.
With the red tape cut, the winningest coaches in Division I-A were elected Tuesday and can now be called Hall of Famers.
"I wasn't expecting it because I thought you had to die first - and I didn't want to volunteer for that," Bowden said during a conference call. "They might have changed the rules to get me and Joe in. But I'm very excited about it."
Paterno, who will turn 80 in December, has won 354 games and two national championships in 40 seasons as Penn State's head coach. No one has ever coached longer and won more games at one Division I-A school. The 76-year-old Bowden leads major-college football with 359 victories, 286 - and two national titles - since taking over at Florida State in 1976.
"I look forward to being in New York with my good friend Bobby Bowden and am delighted that we are going into the Hall of Fame together," Paterno said in a statement released by Penn State. "Hopefully, I deserve it."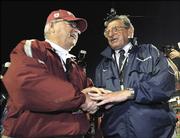 Tinkering with the rules to admit Bowden and Paterno made complete sense to NFF president Steven Hatchell.
"Their legacies are intact," he said at a news conference.
Joining Paterno and Bowden are 13 players, including Heisman Trophy winners Mike Rozier of Nebraska and Florida State's Charlie Ward, who helped Bowden win his first national title in 1993.
"I think anytime a person is inducted into any kind of hall of fame, the people that are going in with him, surrounding him, is kind of a personal thing," Bowden said. "To be going in with Charlie is very good, I love that."
Florida's Emmitt Smith, who became the NFL's career rushing leader, and Virginia Tech's Bruce Smith, the NFL's all-time sacks leader, are both going into the college Hall of Fame in their first year of eligibility.
The rest of the class is Colorado running back Bobby Anderson, Miami safety Bennie Blades, Minnesota defensive tackle Carl Eller, Washington defensive lineman Steve Emtman, Baylor safety Thomas Everett, Air Force defensive lineman Chad Hennings, Tennessee guard Chip Kell, Purdue quarterback Mike Phipps and Stanford linebacker Jeff Siemon.
They will be inducted in New York in December and enshrined at the Hall of Fame in South Bend, Ind., in the summer of 2007.
Copyright 2018 The Associated Press. All rights reserved. This material may not be published, broadcast, rewritten or redistributed. We strive to uphold our values for every story published.