Lily Boyce wants to be an artist or an astronaut - or maybe both.
"I want everything," the Lawrence High School junior said.
At a time when many kids are focusing on practical career paths, a Kansas University professor is helping creative kids like Boyce follow their often-nontraditional dreams.
"In this world, young people who have creative goals are often discouraged," said Barbara Kerr, distinguished professor of counseling psychology.
Kerr and Robyn McKay, a KU doctoral student in counseling psychology, started the Counseling Laboratory for Exploration of Optimal States, a research-through-service program that provides career and school counseling for creative high school students across the state.
Sandra Wick, associate director of KU's Honors Program, said she'd seen a trend of students seeking vocational training rather than liberal arts studies.
"I do sense a growing pressure from somewhere that there has to be a profession at the end of these four years," she said. "It's kind of a sad thing in a way."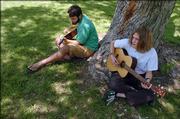 Melessa Demo, a counselor at LHS, said students seeking creative fields are fun to counsel, and she tries to encourage students to have a common-sense approach, even when their hopes may seem impractical.
"We don't crush anyone's dreams, but we also try to look at it objectively," she said.
Though their promise is great, creative kids whose passions may have them taking paths less traveled often don't get the counseling they need, Kerr said. Such students often don't face clear career ladders.
The program began this spring with nearly 300 Kansas students who were nominated by school staff. Kerr works with creatively gifted students. She uses a profiling technique that compares their personalities with those of gifted, creative adults.
Creative kids by Kerr's definition are bright, but they aren't necessarily a school's top achievers. Often they tend to be B+ students rather than A students, because they do well in courses they enjoy and disregard other courses, Kerr said.
Creative kids often have the ability to become engrossed in a particular pursuit.
Tom Ashe, an LHS junior, participated in the project. Ashe wants to be a musician and brings his guitar to school. He strummed it recently as he talked about his career goals.
"I know it's a long shot," he said of his dream to be a professional musician. "I'm ready to accept some sleepless nights and the poor lifestyle."
The pilot program will continue in the fall and next spring.
Copyright 2018 The Lawrence Journal-World. All rights reserved. This material may not be published, broadcast, rewritten or redistributed. We strive to uphold our values for every story published.