They run. And they run a lot. Thanks to eighth-year head coach Sarah Garcia's emphasis on conditioning, the U10 Kaw Valley Force girls are in great shape to win their last two games of the season.
After going through last season undefeated in Division 2 of the Premier League, the KVF girls moved up to Division 1 and are currently 2-4, which is a testament to the division's tougher competition. While the record may appear sub par, the team is accomplishing its goals and plans to come out even stronger next season.
"Our main goal is to improve with every practice and game, and I honestly think we have some of the strongest skilled players in D1," coach Garcia said.
Garcia has really emphasized movement off the ball and crisp passing during practices, and the players have bought into the system well. Maren Kahler admitted that the team isn't used to the level of competition they're facing this season, but will be really good by the end of the season and into next year thanks to Garcia's tutelage.
Kahler and most of her teammates have been playing soccer since kindergarten or even earlier and have developed into a cohesive unit with the addition of a few new players this season. Its that sense of team that gives this squad confidence in the face of tough competition and the confidence to make predictions on the outcome of their season.
"Oh, we'll win our last two games, definitely," Alexa Harmon-Thomas said.
The Force girls need that type of swagger when facing teams in the division that are bigger and faster than them. Most players agree that toughness is a key to winning games in D1 because the other teams are all so aggressive.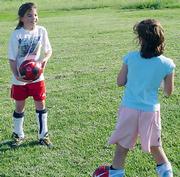 Olivia Hodison learned just that from former Kansas player Gabriela Quiggle.
Hodison met the KU standout at Sport2Sport where she gained some valuable help and advice.
"She really taught me how to handle the ball better and most of all just how to be tough and play physical," Hodison said.
Hodison wasn't the only player to have received instruction from players on the collegiate level. Her teammate Kaitlin Dunbar attended a camp in Topeka put on by players and coaches from national soccer powerhouse North Carolina. Although she really looked up to everyone at the camp, Dunbar also learned invaluable lessons from playing on the U11 team at age nine. The need to play physical and aggressive against the older girls really prepared her for this season's trials.
Harmon-Thomas, Kahler, Hodison and Dunbar all agreed that the team is really strong at passing, defense and moving without the ball, which is a testament to Garcia's practice regimen. Ask any member of the team and they will invariably say that Garcia really wants them in the best shape possible to endure the rigors of the season.
"We've been running a lot," Hodison said with forced emphasis on the last two words.
Hodison also said she likes winning, which is something Kaw Valley Force plans to do in their last two games, as well as all next season.
Copyright 2018 The Lawrence Journal-World. All rights reserved. This material may not be published, broadcast, rewritten or redistributed. We strive to uphold our values for every story published.