Baghdad, Iraq — Insurgents shot down a U.S. helicopter during a raid against al-Qaida militants south of Baghdad and killed two soldiers, bringing the weekend death toll of American service members to seven, the U.S. military said Monday.
The military also said American forces killed more than 40 militants, including an al-Qaida operative, in five raids south of Baghdad in an area commonly known as the "Triangle of Death" because of the large number of insurgent attacks.
The U.S. hopes a national unity government that includes Shiites, Sunnis and Kurds will sap the insurgency's strength, but Iraqi politicians struggled against a deadline to form such a government. And with at least 20 Iraqis killed in roadside bombings and drive-by shootings Monday, sectarian violence showed no signs of letting up.
The helicopter was downed after a U.S. operation in Youssifiyah, about 12 miles south of Baghdad. The Mujahedeen Shura Council, a coalition of insurgent groups that includes al-Qaida in Iraq, claimed responsibility in a statement posted on the Internet.
Other Americans killed over the weekend included two U.S. Marines who died Sunday during unspecified "enemy action" in Anbar province, the area of western Iraq that is the heart of the Sunni-led insurgency. Two soldiers died Sunday in a roadside bomb attack in Baghdad, and another died in a roadside bomb in the capital Saturday.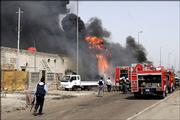 The deaths raised to at least 2,445 the number of U.S. military personnel who have died since the war began in 2003, according to a count by The Associated Press.
The five U.S. raids south of Baghdad resulted in the killing of an al-Qaida militant blamed for an April 1 attack in the same area that downed a U.S. Apache helicopter and killed two soldiers.
An al-Qaida group had claimed responsibility for downing the Apache and posted a gruesome video on the Internet showing men dragging the burning body of what appeared to be an American soldier across a field as they shouted "Allahu akbar!" or "God is great!"
Also Monday, insurgents fired more than 30 mortar rounds at a British military camp in southern Iraq, wounding four soldiers.
Six British soldiers have been killed and five wounded over the past nine days - all in southern Iraq, an area that has traditionally been far more peaceful that central and northern Iraq where U.S. forces are based.
Copyright 2018 The Associated Press. All rights reserved. This material may not be published, broadcast, rewritten or redistributed. We strive to uphold our values for every story published.