Dallas — The way the Dallas Mavericks are going, every team is going to start using two point guards.
New starter Devin Harris and backcourt incumbent Jason Terry hit big shots in a fourth-quarter rally, then showed off their speed and shooting in overtime, sending the Mavericks past the San Antonio Spurs, 123-118, Monday night to take a commanding 3-1 lead in their second-round series.
Dallas has won three in a row since Harris joined the starting lineup. Now the Mavs are one win from making the conference finals for the second time in four years and the third time in franchise history.
The Spurs shook up their lineup for a second straight game, but it wasn't enough. Despite an early surge, the Mavs caught up by halftime and persevered down the stretch of another terrific game in a series that's living up to expectations that have been building since December.
The reigning champions go into Game 5 on Wednesday night in a heap of trouble.
Since Tim Duncan joined the club in 1997, the Spurs are 0-5 when trailing this deep into a playoff series. They also haven't won an elimination game to keep a series going; the only time they won when facing elimination was Game 7 of last year's finals.
Terry scored 32 points and it's hard to say which was his biggest - the 19-footer that put Dallas ahead with 23 seconds left in regulation; his driving layup at the start of overtime that put the Mavs ahead for good; or his two high-arching jumpers that protected the lead in the final two minutes.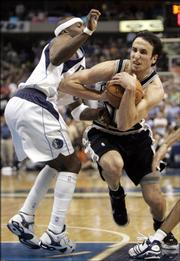 The last one might've been the sweetest because it was over Duncan.
"We get into overtime, and we said we're going to continue to push it and push it," Terry said. "We got stops. We pushed it. We got lay-ups. And hey, we put ourselves in a good position to win the ballgame."
Dirk Nowitzki, showing no problems from the ankle he twisted late in Game 3, scored 28 points. He was 14-of-15 from the foul line.
Cavaliers 74, Pistons 72
Cleveland - Rasheed Wallace's defiant prediction of a Detroit victory backfired when LeBron James scored 22 points, and Cleveland beat the Pistons to even their second-round series 2-2.
Following Detroit's loss in Game 3, Wallace had pledged the Pistons would not only win Game 4, but that the Cavaliers would be playing in front of their fans for the last time this season. Well, Cleveland has at least one more at home after winning its second straight over the Eastern Conference champs.
With Wallace watching from the bench with a sprained ankle, James made two free throws, and the Pistons threw away their final inbounds pass.
Copyright 2018 The Associated Press. All rights reserved. This material may not be published, broadcast, rewritten or redistributed. We strive to uphold our values for every story published.