Oskaloosa — Softball has been quite good to Megan Reed during her stint at Oskaloosa High.
Her skills as a shortstop with a strong bat have paved the way to a college scholarship next season at Oklahoma Christian University, an NAIA school in Edmond, Okla.
Her timing as a member of the Class of 2006 has meant a starring role for a program that has been the standard-bearer for an Oskaloosa athletic department that has experienced its fair share of struggles in recent years.
Her lineage has allowed for a special - if sometimes pressure-packed - senior season while playing under the watchful eye of her mom, Sharon Reed, who took over as the Bears' head coach this spring.
All that's missing is that elusive victory against Silver Lake, the one school that keeps finding a way to short-circuit Reed's goal of making her way to the Class 3A state tournament and putting the final touch on a memorable high school career.
Oskaloosa finished the regular season with a 17-3 record. Does that give you a confidence heading into the postseason?
Yeah, we're pretty confident. We're ready to go to state - we haven't gone to state in anything. So we're real excited about that. This should be a pretty good year for it. Our sophomore year we were ready to go ... and we lost our first game (at regionals). So this year we're pretty psyched about it. We're ready to beat Silver Lake for the first time in four years.
How excited are you that the postseason is on your home field?
Real excited. It's a really good advantage, I think, to have it at our field, because we know all the holes and the ground. And then we just don't have to travel anywhere, which is always good - you don't have to sit on the bus for two hours before you get to the game.
As the No. 2 seed in your regional, you received a bye in the first round. Is that a positive because you get that extra day, or is it a negative that you don't get a chance to go out and get the first-game jitters out of the way?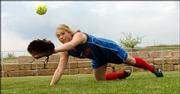 It's positive, because usually in the past we've gotten bad luck and gotten in the same side as Silver Lake, and we'd have to play them the first game instead of the last game. So it's better to get a bye.
It seems like in just about any sport in Class 3A, when talking about this part of the state, Silver Lake is the school to beat. Is that how you guys see it, that they're the big kid on the block you've got to get past?
Yeah, especially in softball, but yeah, almost in every sport. In softball we have to always end up playing them in our (regional), which kind of sucks. But we're ready to beat them this year.
What's the key to making sure you advance out of regionals and make it to state?
We need to play as a team. And we have a pretty good outfield, which I think Silver Lake will probably hit it to the outfield a lot. And then our infield, if it's on the ground, it usually gets stopped. So we just have to make no errors, because they'll probably capitalize on all of our errors.
You're a senior who has a college softball career waiting. What are your thoughts on this being your last season and trying to go out with a bang?
Real excited. I'm really ready to get to college and play college ball. But I can't wait until we get - hopefully we get - to that state tournament this year. It's going to be fun.
You've got an interesting situation this year in getting to play for your mom as your head coach. What has that been like?
Oh, it's been tough (laughs). She's the coach, but we have different viewpoints on some of the stuff. ... She's a really good coach. She knows a lot about softball, and I try to listen to her.
Does it put any added pressure on you having someone that's not just the coach but a parent in the dugout?
Of course. Sometimes it seems like she's harder (on me), but she kind of has to be. You can't be too easy on your own kid, especially when you're playing them.
Copyright 2017 The Lawrence Journal-World. All rights reserved. This material may not be published, broadcast, rewritten or redistributed. We strive to uphold our values for every story published.