Minneapolis — The Minnesota Twins did not need a reminder about how critical starting pitching is to success. Freddy Garcia and the Chicago White Sox gave them one anyway on their way out of town.
Garcia won his sixth straight decision, leading the White Sox to a 7-3 victory over the Twins on Monday afternoon to salvage a split of the four-game series.
Scott Podsednik, Joe Crede and Chris Widger homered to help Chicago win despite resting three regulars and improve to 25-12, the best mark in the majors.
Unlike Sunday night's win, in which they gave up seven runs in the first inning and later pulled off a triple play to rally, the White Sox never trailed this time.
Garcia (6-1) pitched 62â3 reliable innings, giving up three runs and seven hits, including a home run by Torii Hunter.
Scott Baker (1-4) was roughed up for Minnesota, whose starters have a collective 6.51 earned-run average, the worst in either league.
"That's what sets the tone. Always has, always will in this game," manager Ron Gardenhire said.
Red Sox 11, Orioles 1
Baltimore - Josh Beckett allowed two hits in seven innings, and Wily Mo Pena homered and had four RBIs as Boston beat the Orioles for the 12th straight time. Jason Varitek homered and scored a career-high four runs for the Red Sox, whose 12-game run against Baltimore is its longest since the Orioles moved from St. Louis in 1954.
Rangers 4, Yankees 2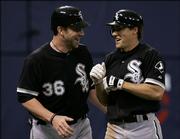 New York - Kevin Millwood pitched seven crisp innings, and Mark Teixeira hit a tiebreaking single in the eighth.
Brad Wilkerson homered to begin the comeback from a two-run deficit, and Texas snapped an eight-game losing streak against the Yankees that dated clear back to last season.
National League
Giants 10, Astros 1
Houston - Barry Bonds went 1-for-3 with a double and watched teammate Pedro Feliz hit his fourth career grand slam, and Randy Winn lead off the game with his fourth homer of the year.
Braves 11, Marlins 8
Atlanta - Brian McCann homered and had a career-high five RBIs, Andruw Jones drove in four runs, and the Braves rallied from a 5-0 deficit to beat Florida. The Marlins lost despite getting six RBIs from Mike Jacobs.
Dodgers 5, Rockies 4
Denver - Nomar Garciaparra singled home the go-ahead run in the seventh, and Brett Tomko won for the first time at Coors Field.
D'backs 6, Padres 5
Phoenix - Shawn Green singled in the winning run in the 10th inning as Arizona beat San Diego.
Green's hit came two innings after Tony Clark snapped an 0-for-26 slump with a game-tying homer.
Copyright 2018 The Lawrence Journal-World. All rights reserved. This material may not be published, broadcast, rewritten or redistributed. We strive to uphold our values for every story published.