So, you say, you just want a relatively simple library expansion at the current site.
That option wouldn't be much - if any - cheaper than plans put forth by four private developers, who each have proposed an entirely new library at another site that will spur adjacent retail and residential development.
That's what members of a city-appointed team evaluating the various expansion proposals were told Monday.
Rebuilding a library on the existing site at Seventh and Vermont streets would cost about $50 million, they were told. Each of the other plans would call for public spending ranging from $50 million to $75 million while promising to create varying degrees of new revenue for the city.
But the good news about the library-only plan at the current site, architects said, is that they were confident a "destination library" could be built without requiring the Lawrence Senior Center or Lawrence Fire Station No. 1 to move.
"It's a viable site," said Steve Clark, an architect with Gould Evans who was hired by the city to evaluate the property. "It could be a very viable option depending on what the city wants to do."
The evaluating team heard from Clark and representatives of each of the four private development firms, who made presentations about what they envisioned for a downtown library. At the end of the meeting, leaders insisted all the proposals were still in the running.
"Each one of these proposals really represents an opportunity for us to invest in downtown," said City Commissioner Sue Hack, who is on the evaluation committee. "They're all exciting. The tough part will be choosing one."
The four proposals from private developers include: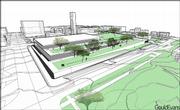 ¢ a plan by the Fritzel family to redevelop a large portion of Vermont Street to accommodate a new library and residential and retail development;
¢ a plan by members of the Simons family, which owns the Journal-World, to put the library in the former Riverfront Mall and add hotel, office and residential space;
¢ a plan by Doug Compton and other developers to build the library and a new hotel northeast of Ninth and New Hampshire streets;
¢ and a plan by Jeff Shmalberg and other developers to build the library and condominiums immediately south of Ninth and New Hampshire streets; a portion of the building would be suspended over New Hampshire Street.
Parking challenges
Clark's analysis of the existing library site confirmed what library leaders have long thought about the location: Finding enough parking spaces is difficult.
Clark's analysis of the site showed it could accommodate 260 parking spaces. But that's fewer than the 400 spaces library leaders have said is desirable. It's also only 140 spaces more than currently exist for the library.
Another option would allow 460 spaces on the property but require multiple levels of below-ground parking. Clark said that option might require construction crews to dig so deep that they encounter groundwater.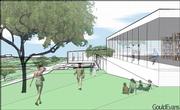 "At that point, you might be digging a swimming pool," Clark said.
If city commissioners decide to consider the existing site, they'll need to review the parking situation carefully, said City Commissioner David Schauner, also a member of the evaluation committee.
"I would probably like to have more parking than that," Schauner said. "I think the northern part of downtown will need more parking."
But Schauner said he wasn't willing to scratch the current site from the list of possibilities.
"It is not a deal-killer for me yet," he said.
Cost comparisons
Clark provided three cost estimates for rebuilding the library at the current site. The first would involve remodeling the existing building and building a two-story addition with below-ground parking just south of the building on the library's current parking lot. That option, which includes 260 parking spaces, would cost $47.5 million.
Option two would involve demolishing the current library and building a new one with below-ground parking. That option - also with 260 parking places - would cost $48.3 million.
The final option would be the same as option two but would include an additional 200 parking spaces for a total cost of $52.5 million.
All the options for the existing site would produce a library that is about 135,000 to 140,000 square feet and require construction to be done in phases so the library could remain open throughout.
At least two of the private projects come in with public costs similar or less than those estimated for a solely public expansion of the existing site.
The Compton project in the 800 block of New Hampshire Street would require about $49 million in public funding, though developers estimate the project would produce $10 million in new government revenue to offset some of those costs. It would provide 570 parking spaces and a 130,000-square-foot library.
The Shmalberg project in the 900 block of New Hampshire has estimates ranging from about $47 million to $50 million, depending on whether the city wants to add 275 or 400 parking spaces to the block, in addition to the existing 500-space parking garage there. Developers estimate the project, which would include a 127,000-square-foot library, would generate a little more than $5 million in new revenue to offset the public costs.
The Simons proposal along the Kansas River would require about $75 million in public financing but is estimated to generate $25 million in new revenue. The project would provide 838 parking spaces and a library of 140,000 square feet.
The Fritzel project would require at least $75 million in public money, but developers estimate the project would generate $70 million in new tax money over 20 years. The project - over a 10-year period - would add nearly 1,864 parking spaces to the area. The library would be 126,000 square feet.
Those cost comparisons left some library leaders wondering about how much value the community would get by building on the existing site.
"I'm overwhelmed. I think all the plans were really quite ambitious," said John Nalbandian, a library board member and former city commissioner. "I think my least favorite is building on the existing site. I think it costs too much money for what we get."
But Clark said the site had some natural advantages: People already use the location for library services, it is adjacent to Watson Park and it is part of a larger public service area that includes the senior center and the outdoor aquatic center.
"The site can work well," Clark said. "It basically comes down to the City Commission deciding how it wants to address parking and whether it wants the library to be a direct catalyst for additional downtown development."
Copyright 2018 The Lawrence Journal-World. All rights reserved. This material may not be published, broadcast, rewritten or redistributed. We strive to uphold our values for every story published.