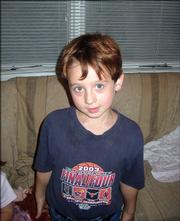 Brian, a first-grade student at Schwegler School, is seeking a big brother through the Big Brothers/Big Sisters of Douglas County program.
Brian really enjoys spending time outdoors and especially likes playing baseball, basketball, and other sports. One of Brian's favorite things to do is play with cars. When he grows up, Brian wants to be a police officer.
Brian says one of the best things that ever happened was getting a new bicycle.
Brian is anxious to get a "nice" Big Brother who he can hang out with.
For more information about the program or to become Brian's big brother, contact the organization at 843-7359 or attend an information meeting at 5:15 p.m. Tuesdays or noon Wednesdays at 1525 W. Sixth St., Suite A.
Copyright 2017 The Lawrence Journal-World. All rights reserved. This material may not be published, broadcast, rewritten or redistributed. We strive to uphold our values for every story published.