Land that is home to a convenience store, lawn-service business and a boat-storage operation near Clinton Lake is being sold to a Kansas City-area investor for nearly $1.8 million.
Seventeen acres adjacent to parkland at the northeast corner of the lake - property now home to Clinton Cove Mini-Mart, Preferred Lawn Service and a storage lot for about 150 boats - is being purchased by Andrew Cope of Prairie Village.
The winning bid: $1.725 million, or more than $100,000 an acre.
"I don't have any immediate plan for it," said Cope, whose other properties generally are along Kansas Highway 7, both near Kansas Speedway and at the intersection with Kansas Highway 10. "I just want to first understand what's going on at the property better, as it sits right now. We'll be working closely with the planning department for a development plan.
"I think they're in need of some type of eating establishment. I think they're in need of a nice convenience store, a gas station there. And after that? Obviously, the boat storage and maybe some business/warehouse-type use would be appropriate in that area - kind of a mixed-use commercial development."
Cope said he would be interested in meeting with existing business owners at the site, and attempt to work with them during the transition. He plans to develop the site himself and have a project going sometime next year.
He closes on the property on or before June 16.
"That may be my last day," said Mark Davis, who has co-owned the Clinton Cove convenience store since 2000, and now occupies the space on a month-to-month lease. "It's not a bad thing. We're kind of sad it's over. We just don't know what's going to happen next. :
"Maybe I've got a future here. Maybe I don't."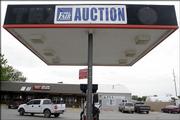 The site has been home to the convenience store and boat storage since the late 1990s, back when it was known as Judy's Junction. The property is southwest of East 900 and North 1415 roads, abutting the edge of parkland at the lake.
Others also are taking an interest in the area. Early last year the Lawrence school district paid $1.21 million for 50 acres, or $24,200 per acre, just northwest of the Clinton Cove site. The district is holding its land for a future school, which leaders at the time said would be at least 10 years away.
Bill Fair, who conducted Saturday's auction, said that development pressures appeared to be speeding up. Saturday's auction attracted more than 100 people, which wasn't a surprise given that the Clinton Cove site:
¢ includes ready access to city sewers through the Yankee Tank sewer district, which the owners of the Clinton Cove site have been paying into since 1982.
¢ has zoning that would allow for rural development ranging from condominiums and townhouses to a truck terminal, water park or destination hotel.
"It's primed (for development)," said Fair, representing the property's sellers, who are members of the Brink family and its various partnerships. "That whole slope will be covered with homes within five years."
Cope, for his part, hopes to build within the city limits. His vision includes a restaurant that would be similar to those that occupy pad sites at neighborhood shopping centers, plus a variety of other uses.
The actual plan depends on what transpires during the next seven months.
"I want to work with the city, if the city wants me to come in," Cope said. "And if they don't, I'll stay in the county."
Copyright 2018 The Lawrence Journal-World. All rights reserved. This material may not be published, broadcast, rewritten or redistributed. We strive to uphold our values for every story published.