Many a high school baseball season has run aground on the shore of a particularly nettlesome decision.
In the state's biggest class, a team has to win two games in the span of only a couple of hours to earn a trip to state, and more than a few coaches have lost more than a few nights' sleep trying to decide how to manage the pitching staff to get those two victories.
Basically, it boils down to this: Throw the best you've got in Game One and take your chances in Game Two - if there is one - or gamble and save your ace for the second game - and pray you get there.
Or, as Lawrence High coach Brad Stoll eloquently put it, "I'd hate to get on the bus and come back to Lawrence with our No. 1 guy with a fresh arm. He doesn't do you much good. There are teams that do that, especially when you get to the state tournament, teams set it up that way. Sometimes it bites you; sometimes it doesn't."
When it comes to the state playoffs, sometimes it's more a matter of timing than talent, and LHS and Free State will take slightly different approaches to their regionals this week.
LHS (12-8) will travel to Manhattan to take on Topeka High at 2 p.m. today. The winner will face either Manhattan (17-3) or Junction City (1-19) at 7 p.m. for a trip to state.
Free State (17-3) gets to stay home to face Leavenworth (1-19) at 4:30 p.m. Wednesday at FSHS. Winner gets Wichita Heights (14-6) or Washburn Rural (6-14) at 7 p.m. with a state berth on the line.
The Lions won't come back to Lawrence with their No. 1 guy rested.
Their ace, Daniel Green, 3-2 with a 2.76 earned-run average, is slated to start against Topeka.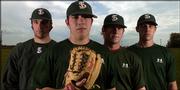 "We'll throw our best against their best," Stoll said. "Greeny's our ace. He's a three-pitch guy and has been pitching really effectively."
Stoll plans to use Jordan Guntert to close, as needed, then start sophomore Joe Kornbrust (1-0, 4.74 ERA) in the regional championship - if LHS makes it. Daren Parker and Drew Hulse could be used in relief.
"That's how we've been doing it," Stoll said, "and it has worked out well for us. We feel comfortable we have the depth to get through a two-game setting. Throwing four guys out there is really how we've been doing it, and we're comfortable with it.
"I think if we were a No. 1 seed and facing a team that has one or two wins, , sit on Greeny and throw him in the championship game. But when you're a 4, that No. 5 seed isn't that far behind you. You don't want to take any chances. You have to make your decision and absolutely believe in it. We believe in our guys and believe in our system."
The system across town is a little different.
Free State has no obvious ace, and coach Mike Hill still is mulling his first-game options.
"To be candid, we're still looking things over," he said. "I'm not trying to hide anything. We have some options. We have four guys we feel comfortable with, four seniors who have been through it a little bit."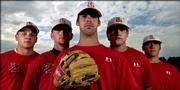 The four are Travis Blankenship (5-0, 0.81 ERA), Robby Price (4-0, 1.25 ERA, 1 save), Scott Heitshusen (2-3, 1.91 ERA, 4 saves) and John Sneegas (2-0, 1.24 ERA).
"Honestly, I don't know if we have an ace," Hill said. "We feel we have an Option A and an Option A. We feel good with all four of those guys on the mound."
Free State has been to state the past three seasons, and Hill has earned the trip both ways.
"The law of averages says you have to throw your best in the first game or there will be no second round," he said. "But we're not in it to win one game. We're in it to win two. You have to set yourselves up to win two. We didn't throw our ace in that first game, but a couple of years ago we did. Historically, we've done it both ways. It's a year-by-year thing.
"But, honestly, we could throw any of those four kids in any situation and feel comfortable. We don't have an ace, and that takes a little bit of pressure off of all of them."
The state tournament will be May 26-27 in Wichita.
Copyright 2018 The Lawrence Journal-World. All rights reserved. This material may not be published, broadcast, rewritten or redistributed. We strive to uphold our values for every story published.