Kansas University's baseball team hurt its chances for an NCAA Tournament at-large bid Sunday, losing its second straight game to Northern Colorado, 7-4, at Hoglund Ballpark.
The defeat was bad enough that coach Ritch Price held a 15-minute meeting with his players, then apologized to media members for having to watch the game.
"It was a devastating weekend for us," Price said. "Obviously, it's very disappointing. We've been struggling on the mound here for about the last four weeks. We've got to pitch better the last two weeks to stay in the hunt."
KU starter Ricky Fairchild (5-6) didn't make it out of the fifth inning. He gave up eight hits and five earned runs, raising his earned-run average to 5.92.
The Jayhawks left 10 runners on base, including four in scoring position. In four innings, a Jayhawk reached base with two outs, only to see the following hitter record the final out.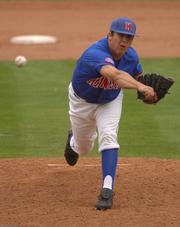 "That was the thing, we just couldn't get the big knock that we needed," center fielder Matt Baty said. "We have been getting them all year. Give them some credit though. They have a good pitching staff."
Northern Colorado entered the weekend with a 15-29 record, but looked more like a 29-15 team, winning three of four games. Northern Colorado spoiled KU's chances of having a winning weekend after the Jayhawks swept Bradley in the first two games.
"They played us as good as anybody that has come in here all year," Price said. "That's how good they played us the last two days. It's a compliment to them, that they are still battling this late in the season."
Kansas sits at 35-23 with only a three-game series with Texas A&M; left on the regular-season schedule.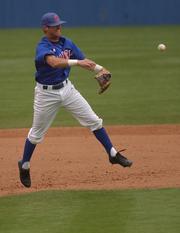 "We're not going to give up," third baseman Erik Morrison said. "We've got a chance to do something special here this next weekend, win a series and then go into the Big 12 tournament on a positive note. We're just going to go from there and see what happens."
Price was hoping that KU would have a chance to enter the Big 12 tournament with 40 wins. Still, Price thinks Kansas has a good shot at making the NCAA Tournament.
"The first thing we need to do, obviously, is win the weekend series with Texas A&M;," Price said. "If we can do that and get to the Big 12 tournament and win a couple of games, I would think that that would put us in the (NCAA) Tournament."
The KU softball team was honored during Sundays game for winning the Big 12 Tournament as a No. 6 seed last weekend.
"Just like our softball team," Baty said. "Anything is possible."
Copyright 2018 The Lawrence Journal-World. All rights reserved. This material may not be published, broadcast, rewritten or redistributed. We strive to uphold our values for every story published.