On one end of the clubhouse stands a ring of reporters around an empty locker, waiting for San Francisco Giants slugger Barry Bonds to appear and maybe, just maybe, offer words of surly wisdom - or at least an expletive.
Five lockers down sits another veteran player, another guy who is chasing history and a longevity record set by a Hall of Famer. He sits by himself.
A perfect contrast in the imperfect world of sports.
While every move of Bonds' is chronicled despite his contempt for the media, his always-approachable teammate, shortstop Omar Vizquel, remains virtually unnoticed, drinking a power shake and organizing his sanitary socks.
The night before Bonds hit his 713th homer to inch that much closer to Babe Ruth and Hank Aaron, Vizquel reached his own milestone - playing in his 2,303rd game at shortstop.
Vizquel, 39, passed Orioles legend Cal Ripken for third all-time at the position and now trails only Luis Aparicio (2,581) and Ozzie Smith (2,511).
"If he wants to, he'll pass them (all); he's a tireless little man," Giants manager Felipe Alou said. "He plays hard and smart every day."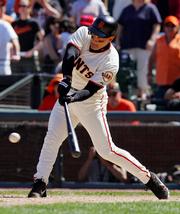 He also plays in the shadows of the infamous Game of Shadows subject. Before joining Bonds, Vizquel was overshadowed on a dominating Cleveland Indians team that included Jim Thome, Albert Belle and Kenny Lofton. And Vizquel played the same position in the same league as Ripken, Derek Jeter, Alex Rodriguez, Nomar Garciaparra and Miguel Tejada - which explains just three All-Star appearances.
Vizquel was the spunky shortstop who gobbled up grounders and Gold Gloves without much fanfare.
He's still playing at a high level with the glove and bat, currently in the top 20 in the National League in batting average and runs. He's also making history. He won his 10th Gold Glove last year, second only to Smith's 13 at shortstop. He is the oldest middle infielder to capture the award.
"I don't do anything special. I just keep my body in shape by doing what I am actually supposed to do," Vizquel said. "Have enough hours of rest, eat well and stay away from injury. And being a little guy, I think that helped me out to keep my body in good health."
Vizquel is listed as 5-foot-9 and 175 pounds. He's shorter than that. Yet he has survived and prospered in a game that has been ruled of late by giants such as Bonds.
"In the 1990s, everybody was hitting home runs and people didn't really look out for the defensive part of the game," Vizquel said. "Now with all the steroid talk and all that, I think people are going to start coming back and talk a little more about the defensive part."
A quick aside: Just because Vizquel is small doesn't mean he automatically can be dismissed from the steroid discussion. No one can in this age. Failed drug tests by fleet-footed Alex Sanchez, slender Rafael Palmeiro and a cadre of lanky pitchers has taught us better. It's not just the hulks who have benefited from the juice.
But the point is that Vizquel played through the steroids era and is still excelling with skills that are counter to what defined the past decade - which might have damaged his legacy.
"I think it didn't help me," Vizquel said. "Because you always hear about the guys who hit home runs all the time and my name never is mentioned in those group of guys. I think I belong in the 1960s era, the little guys who play a lot of games, get base hits and stolen bases."
Considering that he's signed for at least another year, Vizquel could accumulate more than 2,500 career hits, 400 stolen bases and 1,400 runs in addition to his defensive and longevity records.
Not bad for an anomaly in a sport overrun by home run chases, Congressional hearings and no comments. That couldn't be more apparent than it is now, when the sporting world's media are stalking Bonds.
All the while the friendly, funny Vizquel is inconspicuously in the same room.
¢ Plenty of baseball old-timers are discounting what Bonds has accomplished the past few years.
Don't put Hall of Famer Al Kaline among that group.
Kaline, 71 and a special assistant to Detroit Tigers president Dave Dombrowski, said Willie Mays is the best all-around player he has ever seen.
But if the category is narrowed to best hitter - with defense and other components tossed out - then Bonds, Mays' godson, leads the discussion.
"I think Bonds has to go down, if not as the best hitter, certainly as 1-2 with Ted Williams," said Kaline.
¢ Toronto starter Josh Towers has begun the season in infamous fashion. Heading into Sunday's scheduled start against the Tampa Bay Devil Rays, Towers has lost all seven of his 2006 appearances. To make matters worse, his season ERA is 10.09.
According to the Elias Sports Bureau, no pitcher has lost seven starts to begin a season while posting an ERA 9.00 or higher since 1912, when the majors began recording earned runs. Towers, who has allowed 68 base runners in 301â3 innings, could be demoted from the rotation if he struggles again.
"We want to be fair to Josh, in one sense, and fair to the other guys in that dugout, too," said Toronto's General Manager J.P. Ricciardi.
¢ For the first time in his 16 seasons in the majors, New York Yankees mild-mannered designated hitter Bernie Williams was ejected from a game. During the seventh inning Tuesday night, Williams took a called third strike and flipped his helmet backward as he walked off the field. It nearly hit plate umpire Charlie Reliford, who immediately ejected Williams.
¢ The body and uniform have changed.
The wit and irreverence haven't.
Giants' reliever Steve Kline walked past reporters standing in front of Bonds' locker recently and said, "You here for what's his name?"
Copyright 2018 The Lawrence Journal-World. All rights reserved. This material may not be published, broadcast, rewritten or redistributed. We strive to uphold our values for every story published.