Baltimore — The Baltimore Orioles issued 12 walks to fall behind, then benefited from three free passes in the ninth inning to win a game that was wild in virtually every sense of the word.
Pinch-hitter Kevin Millar capped a four-run ninth with a two-out RBI single, and the Orioles beat the Kansas City Royals 8-7 Sunday for a three-game sweep.
Trailing 7-4, the Orioles rallied against Kansas City closer Ambiorix Burgos (1-1), who began the inning by walking the bases loaded. Jeff Conine followed with a sacrifice fly, and after Corey Patterson struck out, Javy Lopez and Nick Markakis hit run-scoring singles to tie it.
Jimmy Gobble replaced Burgos, and Millar blooped a 3-2 pitch to right to score Lopez on a close play at the plate to complete the 3 hour, 54-minute marathon.
"The walks always end up haunting you," Conine said, "and luckily we haunted them last."
John Halama (2-1) worked the ninth for the Orioles, who earned their first sweep of the season. It was their first home sweep of a three-game series against Kansas City since 1999.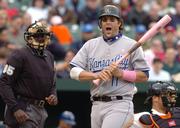 "A win is a win. We'll take it," Baltimore manager Sam Perlozzo said. "They might be ugly, but you'll take every win you can get."
Especially in this unexpected fashion. The Orioles were 1-19 when trailing after eight innings; the Royals were 9-0 when ahead after eight.
"We find all kinds of ways (to lose)," Kansas City manager Buddy Bell said. "I can't explain it."
Baltimore ended up taking advantage of walks, as did the Royals earlier in the game. The 12 walks were the most Kansas City received since drawing 12 at Seattle on June 12, 1995.
Angel Berroa had three hits and drove in a run for Kansas City, which fell to 2-17 on the road and 0-9 against the AL East.
"I don't really have all that much to say about it," Bell said. "Burgy usually comes in and throws strikes. It's unexplainable. It's a tough loss."
Miguel Tejada went 3-for-4 with a homer, and Lopez also had three hits for Baltimore.
With the score tied 4-all in the eighth, Mark Grudzielanek hit an RBI single and Doug Mientkiewicz followed with a run-scoring groundout.
Berroa added an RBI single in the ninth, but the lead wouldn't last, thanks to Burgos' lack of control.
"Their pitcher didn't have the best day and we kind of took advantage of it by being patient," Lopez said.
Copyright 2018 The Associated Press. All rights reserved. This material may not be published, broadcast, rewritten or redistributed. We strive to uphold our values for every story published.