Jeffrey Phelps never set out to make films in Hollywood.
The 1999 Kansas University graduate majored in journalism and advertising. So when he decided to dedicate himself to writing and directing a dramatic feature, his friends were rather surprised ... until they saw his debut, "Special Ed."
"A lot of people say, 'Wow, this is like a real movie,'" he recalls.
"I say, 'Wow, that's like a real compliment, almost.'"
He understands, however, why expectations are often low for an independently produced project.
"For a first movie, everybody is expecting some bad handheld-looking thing with buddies from an acting class," Phelps continues. "This has actors that people recognize. And I'm really proud that we got great production value out of the movie. It doesn't look like a cheap movie."
Others were impressed with how "real" the picture turned out, including Blockbuster Video, which purchased 16,000 copies. Starting Tuesday, Phelps' film will be available in Lawrence and at every other Blockbuster outlet nationwide.
In "Special Ed," Greg Germann ("Ally McBeal") plays cancer specialist Dr. David Edwards, who is looking for a patient to help him with an experimental treatment.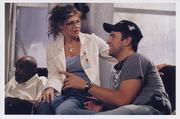 He is introduced to Sonny (D.W. Moffett, "Thirteen"), a crass, arrogant sales executive who has an inoperable tumor in his lung. Edwards recognizes Sonny as the bully who made his life hellish in high school. As their collaboration increases, the men embark on a long road toward developing trust and respect for each other.
"I lost my dad eight years ago," Phelps says. "He had the same kind of lung cancer Sonny had. I also lost an aunt, a good friend and a grandmother, all to cancer. Each one of their experiences is somehow in that movie."
Many of his friends immediately assumed the movie might be a biographical account of Phelp's relationship with his dad. In the movie, Sonny and his teenage son are barely speaking to each other.
"The problem is when I started writing about my dad and I, we had a great relationship - which makes for a horrible movie," the Kansas City, Kan., native says. "If your main characters are getting along on page two, the movie is over."
Fish-out-of-water
Phelps moved to Los Angeles immediately after college.
He first found work as a production assistant at Clint Eastwood's Malpaso Productions.
"Getting out here and working for Malpaso was truly humbling because I was at the bottom of the trough," the 29-year-old remembers. "But it was great because I saw how a production works from the bottom up."
The job also helped him get his foot in the door as an actor (that's him as the drunk frat guy who hits on Britney Spears in her starring vehicle "Crossroads").
Meanwhile, he also was attempting to launch a standup comedy career, performing at hot spots The Improv and The Comedy Store.
"I went with the fish-out-of-water angle of being the kid from Kansas," he says. "I did this whole routine on how everyone out here had this Calvin Klein, sexy-ad look to them. And I looked more like a JCPenney ad."
He began working on "Special Ed," which was originally titled "The Doctor and the Bully." He finished the script in 2004 and shot the picture in 21 days later that year. He initially tried to get it released theatrically, but he says the downer topic coupled with the lack of a marquee star made that difficult.
"I went through that phase afterward where I had buyer's remorse of all the things I wanted to do differently," he admits. "Now I'm to a point where I appreciate what it is and the good stuff that came out of it. It truly was my film school."
Return to directing
Even though Phelps didn't study filmmaking at KU, he emphasizes how much his education helped his craft.
"A lot of people are surprised out here when they find out I was an advertising major," he says. "But I put together a proposal by myself that I gave to all the investors. That was all advertising. I put together the whole DVD myself - the cover, the artwork, the copy. That's for sure all stuff I learned at the advertising school."
Now that Phelps has seen that a career in filmmaking is a viable possibility, he is already crafting three screenplays: a psychological thriller, a comedy and a drama.
"Even on the worst day on the set when everything was going wrong, I still had more fun than I'd ever had in my life," Phelps says. "I figure that's a good sign."
Copyright 2018 The Lawrence Journal-World. All rights reserved. This material may not be published, broadcast, rewritten or redistributed. We strive to uphold our values for every story published.