Photo Gallery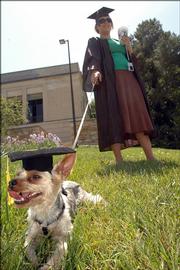 Kansas University's Graduation Ceremony 2005
Hey, Mitchell White's parents. He has a question. He'd really like to wear his Superman costume under his gown for Lawrence High School's graduation, even though administrators would probably prefer he didn't. He thinks the costume would be appropriate, since he's known for wearing it to LHS basketball games.
But only if you, as his parents, are cool with it. So what do you think?
"With my parents, I'll ask permission," White said last week. "I'll ask forgiveness from the school."
With commencements less than a week away for LHS, Free State High School and Kansas University - they all fall on Sunday this year - graduates are plotting what they'll wear in addition to their caps and gowns.
The options range from conservative and classy to crazy and kooky.
What they'll end up wearing will depend, in part, on where they're graduating.
Photo Gallery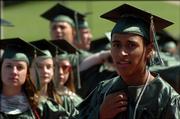 Free State High's Graduation 2005
At KU, graduates are known for their outlandish hats and other adornments that separate them from the crowd. So many seniors get decked out in bright colors that they almost have to go conservative to stand out.
"You see a little bit of everything," said Jennifer Alderdice, director of student programs for the KU Alumni Association, who has attended university commencements for 10 years. "Almost every student has a decorated hat, or wears a Hawaiian lei, or ties a balloon to their hat. There are girls with feather boas and guys on stilts."
Don't expect anything of the sort at high school graduations. At least that isn't endorsed.
"We encourage them to dress nicely and appropriately under their gowns - skirts, slacks and closed-toe shoes," said Jan Gentry, assistant principal at LHS. "It's easy for students to think that (casual dress) is appropriate just because KU has provided that example. But we choose to make this more of a formal celebration."
Photo Gallery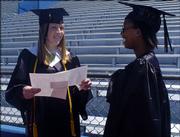 Lawrence High's Graduation 2005
Joe Flannery, president of Weaver's Department Store, 901 Mass., said the girls and women graduates who come in shopping for typically look for sundresses, though some look for sleeveless tops.
Men often opt for polo shirts and shorts.
"They don't seem to dress that much for the occasion," Flannery said, "since nobody can see what they're wearing anyway."
That's partly the reason LHS senior White wants to wear the Superman costume.
And, as a side note to White's parents, there actually is a worse option than being dressed as the Man of Steel.
"They told us we can't go naked under there," White said. "What kind of rule is that?"
Commencement couture
Trying to decide what to wear for graduation? Here are 10 approaches you might consider:
Approach No. 1: Keep it casual That's the route Jacqueline Eaton, a KU senior from Tulsa, Okla., plans to take. "I'll be fairly dressed up, but I'm not buying anything new," she said. Onlookers won't be able to see under your gown while you've got it on anyway. And Eaton isn't imagining many options for accessorizing - she's getting her degree from the School of Business, which has light brown as its tassel color. "It's the worst color there," she said.
Approach No. 2: Go with classy Margaret Pendleton, who will graduate from Lawrence High School, plans to wear a "simple dress" before Sunday's commencement. "I'll probably go buy it," she said. "It should be something special. It only happens once." She said her choice to dress up was more for herself and her family than her classmates: "I've spent three years with these people. I don't think they care that much what I look like."
Approach No. 3: Try a theme Joe Wessels, another senior at LHS, is scheming with his friends to all wear similar clothes under their robes for when the ceremony is over. "We think we want to go with a Guns N' Roses theme," he said.
Approach No. 4: Show school pride There are an endless number of ways to sneak a Jayhawk, Firebird, Chesty Lion or other mascot into your outfit. At Kansas University, Jayhawk glasses, fuzzy hats and earrings are common accessories. Jennifer Alderdice, director of student programs at the KU Alumni Association, remembers one student who covered her entire gown in Jayhawk stickers. "There were probably like 200 stickers," she said.
Approach No. 5: Tell us about yourself This especially applies to KU grads. Wear a sombrero if you're from Mexico. Or tape a model of a building to your cap if you're an architecture major.
Approach No. 6: Accessorize with a dog Want to make friends on graduation day at KU? Dress your dog in a cap and gown, or in a Jayhawk T-shirt. You're almost guaranteed to have people talking to you and doting on your puppy. And chances are your photo will end up in the paper. Same rules apply for dressing up your child.
Approach No. 7: Use helium Looking to stand out in the crowd? Carry a balloon ... just like all the other graduates trying to stand out in the crowd. With so many people trying this approach, it might take a really big balloon bouquet. "It helps grandma find them in the crowd," said Susan Engle, co-owner of Englewood Florist, 1101 Mass.
Approach No. 8: Get it on tape It's simple, but try using tape to write a message on the top of your cap. It might be simple, like "KU" or your name. Or it might be a bit desperate, like "Need job." Sure, you could go with the old standby, masking tape. But it only comes in off-white and blue (used for painting), and it doesn't hold up well in rain. Sue Cottin, co-owner of Cottin's Hardware, 1832 Mass., suggests duct tape instead. It comes in neon colors and sticks better than masking tape. The downside is it leaves residue if you try to take it off.
Approach No. 9: Keep cool Chances are, Sunday's commencements will be hot. Since people can't see under your gown anyway, you might opt for shorts, a T-shirt and flip-flops. For bonus points: Wear sunscreen, or regret it for days.
Approach No. 10: Baggy cargo pants How do we put this tactfully? If tradition holds true, some KU graduates - and especially those soon to have "M.D." after their names - will smuggle a certain bubbly alcoholic beverage into Memorial Stadium. And others may, despite regulations, choose to keep a flask with them. For those partying scofflaws, baggy cargo pants offer multiple pockets for transporting contraband down the hill.
Copyright 2018 The Lawrence Journal-World. All rights reserved. This material may not be published, broadcast, rewritten or redistributed. We strive to uphold our values for every story published.