OKLAHOMA CITY — Oh, what a merry month of May.
Kansas University continued its scintillating softball sizz by stunning Oklahoma, 4-2, on Saturday to become the unlikely champion of the Big 12 Conference tournament.
"This is the most exciting moment in the program's history that I've been a part of," said 10th-year head coach Tracy Bunge, who also spent four years as a KU player.
Kansas was the tourney's No. 6 seed, but the Jayhawks won four games in three days - three against higher seeds - for the school's first conference softball title.
"It's just an awesome feeling," said KU senior Serena Settlemier, who added the tournament MVP to the Big 12 player of the year award she won four days earlier.
Settlemier went 3-for-3 with a double in Saturday's title game, yet lasted only one inning in the circle before Bunge replaced her with Kassie Humphreys.
"I was very surprised," Settlemier said of the quick hook. "I had given up three hits, but I thought my ball was still moving."
Settlemier surrendered the Sooners' only runs, but they were both unearned because right-fielder Heather Stanley misjudged Samantha Ricketts' short fly ball and had it pop out of her glove as she and second baseman Jessica Moppin raced for it.
"I thought it was hit a little deeper," Stanley said, "and I thought Moppin might dive for it."
Kansas had taken a 2-0 lead in the top of the first, thanks to an error by pitcher D.J. Mathis. A single by Stevie Crisosto and Settlemier's double to the left-field corner put runners in scoring position with one out.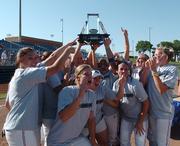 Minutes later, Mathis fanned clean-up hitter Destiny Frankenstein and appeared to have escaped the jam when Moppin hit a roller toward her. However, Mathis whiffed the ball - it went right between her legs - and two runs scored.
KU's 2-0 lead was short-lived when OU scored its two unearned runs in the bottom of the opening frame. Then after Kansas failed to score in the top of the second, Settlemier went back to the mound. But when Stacia Aleman greeted her with a single, Bunge sent for Humphreys.
"Even though those two runs were unearned," Bunge said, "I didn't like what I was seeing. Serena didn't have a real good off-speed pitch and Oklahoma was on the ball pretty hard."
Settlemier wasn't the only one surprised by the quick hook.
"Coach told me to be ready," Humphreys said, "but I didn't really expect the call that soon. I was very surprised."
Not that it bothered Humphreys.
In her six-inning stint, the junior right-hander walked one batter, hit another and gave an infield single, but she fanned seven and her won-lost record climbed over .500 (17-16) for the first time since she won the Jayhawks' season opener against Florida.
"D.J. threw well enough," OU coach Patty Gasso said, "but when Humphreys came in she threw really well."
The Sooners, who lead the Big 12 with a .316 team batting average, had touched Humphreys for eight hits and four runs the last time she faced them. That was on April 30 in Norman, Okla. It was also the Jayhawks' last loss.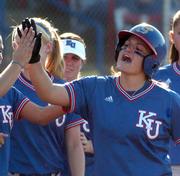 Since that defeat, the Jayhawks have rung up seven straight wins.
"The difference is we aren't the team we were that day," Humphreys said. "We just didn't have it that day."
Since the beginning of May, however, the Jayhawks have been on a roll.
Kansas (33-24) won Saturday with a two-run outburst in the sixth inning that featured contributions by five of the six seniors on the roster.
Settlemier started it with a single up the middle and Frankenstein followed with a bunt single. That brought up Moppin who drilled a Mathis pitch off the left-field fence for a double that scored pinch-runner Ashley Goodrich. Minutes later, Stanley stroked a sacrifice fly to left, scoring Frankenstein.
All five of those players are seniors. The only senior who didn't contribute in that inning was Nettie Fierros who began the game as the DH, but was replaced by Settlemier when Humphreys took over in the circle.
Aleman gave the Sooners hope in the bottom of the seventh with a scratch leadoff single, but Humphreys retired the next three hitters to send the Jayhawks to an automatic berth in the NCAA Tournament for the first time.
When the pairings are announced at 2:30 p.m. today, the Jayhawks will be concerned only about where they'll be headed next weekend, not whether they'll be selected.
"I think with a little bit of rest and a little bit of finals," Humphreys said, "we'll be ready to go."
Humphreys and Moppin joined Settlemier on the all-tournament team.
Copyright 2018 The Lawrence Journal-World. All rights reserved. This material may not be published, broadcast, rewritten or redistributed. We strive to uphold our values for every story published.