The old stone building out by Simmons Point - once a way station on the Santa Fe Trail - looks like a bomb hit it.
On the west side, the roof has crumbled onto the floor, its wood beams fractured and poking out the glassless windows. On the east, an absent wall exposes bowed floors and weathered ceilings.
"There's nothing getting done here," Overbrook Police Chief Edward Harmison said, pacing the building's perimeter. "It's going to fall down."
Historic stops like this one - an old house called the Simmons Point Stage Station - are rare and becoming rarer, Harmison said.
Between Lawrence and Overbrook in southwest Douglas County, the broken building was certified as a historic site by the National Park Service in January 1995. But no nearby town - not Lawrence, not Baldwin, not Overbrook - has claimed the building.
So the building, year by year, has fallen deeper into neglect, a battered victim of time and weather.
Harmison, a self-educated Santa Fe Trail historian, can't stand it.
"I wish they had kept this up," he said at the site. "We're going to have a pile of rock."
No restoration
Overbrook resident George Maichel has owned the property for at least the more than 10 years since it gained a spot on the National Park Service registry.
Maichel and Harmison have spoken several times about the property over the years, but, much to Harmison's disappointment, Maichel doesn't want to restore the building.
Photo Gallery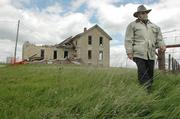 Simmons Point station
Maichel said money was a factor. Fixing the building would require either total restoration or tearing it down and using original materials to rebuild it. And even if he had the tens of thousands of dollars the project would likely require, he doesn't have much interest in the property anymore.
Maichel also said the park service shouldn't play a part in fixing the building.
"They don't have any obligation to it," he said.
Angela Shear, who oversees Kansas historic sites for the park service, did not return calls.
The property could still be saved - or at least given a chance - if the right people could get involved, said Janine Joslin, executive director of the Kansas Preservation Alliance.
"It just takes somebody with interest to get it done," Joslin said.
Harmison doesn't want to give up, though he admitted the building is probably "a lost cause."
Looking out over the crest of Simmons Point, he pointed north, toward a distant water tower and a hazy horizon.
"This is the last place you can see both the Oregon and Santa Fe trails," he said. "That's what makes Douglas County unique."
Here he envisions people sitting at picnic tables eating lunches after a visit to the Simmons Point Stage Station museum housed inside the old building.
He can see generations of people visiting the site, learning about a slice of American history that, like the trail itself, is getting buried under the forces of time.
But he can't do it himself.
"It'll take people with more connections than I've got," he said.
Simmons Point station
Copyright 2018 The Lawrence Journal-World. All rights reserved. This material may not be published, broadcast, rewritten or redistributed. We strive to uphold our values for every story published.