About a year ago Pat Protasio and her husband, Chuck, flew to Jacksonville to watch Pat's daughter Chelsea Quinn, 23, and her boyfriend Alex Baker, 24, graduate from the University of North Florida.
Mortar boards had barely hit the ground when they announced their engagement.
"And, we'd like to get married in Kansas, in your backyard in your gazebo, if that's OK," Chelsea said.
So, hugs all around. It was a done deal.
One more thing.
Chelsea and Alex met in high school, and their first date, a prom, was April 24, 1999. They've celebrated that day every year since, and April 24, 2006, was the day they wanted to be married. This year it fell on Monday.
So, Monday it would be.
"When I called family to announce the Monday afternoon wedding date it was quite upsetting for a lot of people." Pat's explanation to family: "That's what Chelsea wants."
Chelsea is shooting for an advanced degree in anthropology but is definitely a woman of the 21st century.
She bought a fancy, brand new wedding dress on eBay, and the minister for the occasion was booked on a Web site.
The wedding dress of her dreams: "It's white but along the top and on the shoulders it's dark navy blue with silver embroidery and the train is navy blue and silver," she said. "I saw it in a bridal magazine when I worked at Borders and fell in love with it."
Audio Slideshow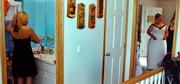 Couples: Chelsea Quinn and Alex Baker
She ordered it in September, and after lots of e-mails and excuses the dress arrived at her mother's house in January.
In the meantime, all wedding arrangements were being made from the command post in the Protasio home north of Baldwin.
"I've never gotten a daughter married before," Pat said. "I went to my first bridal show ... now that was an experience. We ordered a cake, hired a caterer, rented chairs, got a plastic runner to make an aisle through the grass, booked hair appointments and ordered flowers."
On the morning of April 24 the Protasio household was full of guests, the caterer was taking over the kitchen, and any room with a mirror was occupied.
And, under dark clouds, there was steady rain.
Plenty of time to hear the cause of all of this commotion.
"Alex and I were in a high school geometry class in assigned seats next to one another," Chelsea said. They became friendly and she kept "hinting" that she had a new dress for the prom but no date. Finally Alex took the bait.
For their seventh anniversary with little to spend, they decided not to exchange gifts. They'd have a quiet dinner at Carrabba's, their favorite restaurant. She did run to Target for a small gift in case Alex surprised her with something.
After dinner they went for a walk in the UNF's game preserve and sat on a bench overlooking the alligator pond.
"Alex asked me to close my eyes ... he had something for me."
Thinking it was a gift, she was happy she'd made the trip to Target.
It was a ring box. She asked, "Is this what I think it is?" After he popped the question, she said, "Yes, I'll marry you."
After a road trip back to Florida, they took a honeymoon cruise to the Western Caribbean.
Next fall she'll be in Greenville, N.C., heading toward her master's degree in anthropology at East Carolina University. Alex, a graphics designer, will continue to work in Jacksonville until he finds something in Greenville.
Copyright 2018 The Lawrence Journal-World. All rights reserved. This material may not be published, broadcast, rewritten or redistributed. We strive to uphold our values for every story published.