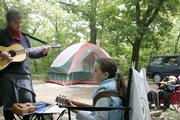 Gary Tannen strummed the melody of an Irish folk song on his guitar and sang for his wife, Karen, and two of his friends.
The group relaxed Saturday afternoon in camping chairs in the shade of the Bloomington West campsite at Clinton Lake. The aroma of campfires from the night before still filled the air.
Another acoustic jam session of guitar and fiddle players was about 50 yards away, as the campers attempted to play away the remaining hours until the band performances began again at the third annual Stringband Rendezvous.
"We do it for the music. We do it because nobody else is doing anything like this," host Garry Bury said.
Bury describes the weekend as a party open to the public to celebrate all types of acoustic music, including bluegrass, country and folk music.
He collects donations and rolls the proceeds over to help plan the next year's event. Vendors, drugs and alcohol abuse are not allowed.
The peaceful and quiet setup and the variety of acoustic music played has kept Tannen, of Kansas City, Mo., and his friends returning every year.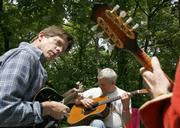 "I like camping, and I like music. I really enjoy putting them together," Tannen said. "Playing and singing songs around a campfire is ideal for me."
As of Saturday, about 75 people made it to the campsite, Bury said. He expected more to filter in during the evening hours. His band, The Blackbury Band, and also Frayed Nots were scheduled to play later in the evening.
Bury is a Johnson County resident, but he said attendance at the rendezvous is a mix from his county and the Lawrence area.
"A lot of the younger crowd is from Lawrence. I'd say it's pretty evenly split," Bury said.
The rendezvous continues today at the campsite.
Copyright 2018 The Lawrence Journal-World. All rights reserved. This material may not be published, broadcast, rewritten or redistributed. We strive to uphold our values for every story published.