Please. For the love of Mom, find it in your heart to forgive Cindy Price. Seeing her stroll into a baseball game late can be an insult to die-hard fans, but c'mon. Let it slide.
"If I'm there by the third inning," Price said, "it's not considered late."
And even if it was, Price probably has seen more baseball games than any woman should have to. Give her a break.
Today is a day to celebrate mothers, and while there are countless tales of iron-moms caravaning kids all over town, buying orange slices for postgame celebrations and consoling Junior after an 0-for-4 day, it's hard to fathom a baseball life as hectic as Cindy Price's.
It starts with her husband, Kansas University baseball coach Ritch Price. It continues with KU senior shortstop Ritchie Price (son No. 1), is prolonged with KU second baseman Ryne Price (son No. 2) and finishes, finally, with Free State High standout Robby Price (son No. 3), a Jayhawk-to-be.
Eighteen years ago, when Robby's birth finished off the Price clan, Cindy HAD to have seen this coming. And she did.
Now, her life is surrounded by baseball, running from game to game, tuning into the radio on the way to Hoglund Ballpark to see how KU is doing - and asking for another chance if she's not quite on time.
Cut her some slack already. Especially on a day when it's easy to remember why mothers can be so great.
Loving the game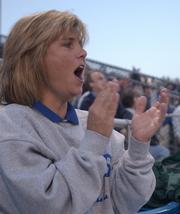 Between school baseball and the laid-back summer leagues, a rough estimate has the Price boys playing about 300 games a year from coast to coast these days.
And no, Cindy Price can't possibly make all of them, nor will her sanity allow it. But you can't fault effort - she makes it to an awful lot of games for all three of them.
So the question was posed to each Price family member. Remembering that a third-inning arrival counts as an official appearance, just how many games has Cindy Price attended in her lifetime?
"Oh gosh," Cindy said, before busting out in laughter.
"I don't even know," Robby said. "A lot."
"A thousand," Ryne added. "Not to mention how many places she's driven us."
"At least a couple thousand," Ritchie said. "That's a lot of games to sit and watch."
Thankfully, Cindy always has liked baseball. Her brothers played when she was growing up on the west coast, so meeting and marrying Ritch, a high school baseball coach at the time, was no big deal.
But then, a son was born. And another. And another.
Baseball was never forced on any of the three, but who doesn't want to make dad proud? Besides, baseball was a babysitter when Cindy needed a break. When Ritch coached in junior college, the three boys would play wiffle ball in the bullpen area. Summer baseball camps run by Ritch became what Cindy called "daycare." Robby started going to them when he was 2 years old, and Ritch always made sure to let his sons feel included.
"That was a way for her to relax and get us out of there," Robby said. "I'm sure we weren't always the greatest kids."
Even so, Cindy's summer daycare strategy turned all three sons into pretty good baseball players. Ritchie has started four years at KU, and Ryne started as a freshman before a wrist injury set him back this season. Robby will join KU's team next year and could challenge for the starting shortstop job immediately.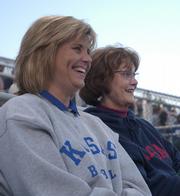 Now, it was a matter of Cindy developing an undying love for the game. She had no choice. Between the three boys and Ritch - and aren't many sports-crazed husbands considered another son in some households? - Cindy used to have four teams to keep tabs on at once while living in California.
That's a lot of mileage on the family car. But an iron-mom lives that sort of life, and Cindy gives no hint of anything but thankfulness for the chance to be her kids' biggest supporters.
Her sons are just as grateful.
"We played a lot of games on the same day, and she managed to get to all of them," Robby said. "She's just an incredible person."
"Another day of baseball"
So the final verdict for Cindy Price's baseball-game attendance count is somewhere between "Oh gosh" and a couple thousand.
While it's reasonable to believe that some of those contests would mush together in her memory, there's some that truly stand out - both good and bad.
She beamed when Ryne hit two three-run home runs to complete a dramatic victory while a senior at Free State. She cringed when Ryne was hit in the head with a line drive while pitching, sending him to the hospital.
She was proud when Ritchie's team won the CIF division championship in California, earning a trip to play at Dodger Stadium. She was always on edge while Robby played in the Kansas state baseball tournaments each of the last three years.
Cindy's occasionally a wreck, too, when she knows what's at stake for an upcoming contest. Sometimes, the anxiety makes her late. Remember, we're forgiving her for that.
"I get nervous when it's a big game," she said. "And if it's a big game, I'll hear about it all week. So I know."
So what about big holidays? Today counts as one for iron-moms all over the world. What's Cindy Price doing for Mother's Day today?
"Another day of baseball," Robby said with a smirk.
He's right. Cindy will be at KU's baseball game against Northern Colorado, doing what she always does: Being her sons' biggest fan, and most importantly, being mom.
She wouldn't have it any other way.
"My motto is 'Life's a great adventure,'" Cindy said. "And it has been great."
Copyright 2018 The Lawrence Journal-World. All rights reserved. This material may not be published, broadcast, rewritten or redistributed. We strive to uphold our values for every story published.