Perry — Kim Kissing looked like a wreck Saturday following her 53rd-place finish in the road race event of the USA Cycling Collegiate Road Nationals.
That would be because she was in a wreck.
Within six miles of the finish line at Lake Perry, the lead pack of riders suddenly turned into a bunch of twisted bikes and bodies.
"I'm pretty positive right now, I guess I don't know if I'm really in shock or anything," Kissing said. "I think something happened as somebody went across the front of the field and initiated a crash with a lot of people that went down. But I didn't get it too bad, I guess. I was able to get back up on my bike and then finish."
Despite a bandaged knee and a hand-sized tear on the back of her shorts, the Kansas University rider still intends to participate in today's final event - the criterium around downtown Lawrence.
"It (jersey) kind of got a little torn," Kissing said. "I think that's where I fell the most and I just kind of slid on my backside for a while and kind of ripped it off some. I was luckier than some people. ... Crits usually have a lot of crashes in them too, so I'm a little bit leery of that."
The severity of the crash sent some women to the hospital. As of press time there was no word on how many cyclists were hospitalized, what hospital they are being treated at and the condition of the riders. The crash also forced a 45-minute delay to the men's race.
Fellow KU cyclist Michael Folendore also took a tumble on the course during the men's 84.6-mile race around the lake, but he fared a little better than Kissing.
Photo Gallery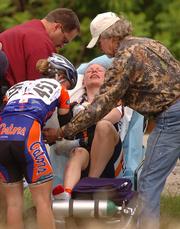 Lake Perry Road Race
"I'm always, always very alert that someone's going to be in a wreck," Folendore said. "That's just the way it is. You've got so many guys, everybody's real itchy and antsy and they just want to ride hard. And all it takes is someone looking up or looking the wrong way, not paying attention and it's all over.
"You could see it starting to build ... the riders starting to get sketchy. You had kind of an accordion effect where the front of the group slows down, but the back of the group is still going fast so you kind of bunch up in the middle and then it would expand."
The University of Virginia's Mark Hardman came away from the delay and the crashes unscathed to take first in the Division I men's road race.
"Nothing ever starts on time in bike racing," Hardman said. "You can never just have a hard and fast plan because it's never going to come out as you plan so you just have to be flexible and roll with the punches."
Hardman competed in the Road Nationals two years ago and finished in the middle of the pack.
"It kind of started to sink in at the line," said Hardman of what he had just accomplished. "I don't think I'm enjoying it quite as much as I'm going to enjoy it over a nice Belgium Ale in a couple of days."
Hardman said he's enjoyed his first visit to Kansas, saying the flat terrain reminded him of a couple of summers spent on the beaches of North Carolina.
Winning a national title will surely make his time in Kansas truly memorable.
Penn State's Sarah Uhl won the women's Division 1 race.
The D-I criteriums start at 9:45 a.m. today with the men kicking off from 9th and Mass first. The women's race will follow and is scheduled for a 11:15 a.m. start.
Copyright 2018 The Lawrence Journal-World. All rights reserved. This material may not be published, broadcast, rewritten or redistributed. We strive to uphold our values for every story published.