Cairo, Egypt — It took six months of wrangling and a last-minute push by a top U.S. diplomat to negotiate a Darfur peace agreement - and it was signed only by Sudan's government and the largest rebel group in the sprawling, arid region.
In the week since the deal aimed at ending a conflict that has killed more than 180,000 people and displaced 2 million, the shaky underpinnings of the agreement show themselves in new attacks by pro-government militias and second-guessing by some rebel leaders.
"That peace has been signed in Abuja (Nigeria) doesn't mean everything is fine or that there will immediately be peace on the ground," the United Nations' chief envoy to Sudan, Jan Pronk, said by telephone from Sudan's capital, Khartoum.
While pro-government militias are blamed for most of the killing, rape and arson in what U.N. officials call the world's worst humanitarian crisis, Pronk said the top priority for now is to broaden "the circle of support for the agreement" by reaching out to splinter rebel groups.
African Union mediators have sent an open letter seeking to assure the leaders who have balked at the accord that the deal has "stronger guarantees for implementation than any other peace agreement in this African continent."
The three-year-old conflict arose largely from longtime disputes over land and water between farm communities and nomadic tribes that villagers contend are supported by Sudan's government.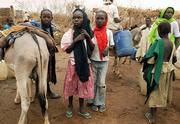 Nouredine Mezni, one of the African Union mediators, said in a phone interview that the accord was born of "six months of titanic efforts" to overcome distrust between the rebels and the Sudanese government in Khartoum.
The continuing lack of trust shows itself even inside the biggest rebel group, the Sudan Liberation Movement. Its leader, Minni Minnawi, signed the accord, but a factional chief, Abdel Wahid Nur, refused.
Nur told The Associated Press on Friday that he would support the treaty only if the Khartoum regime signed an additional document setting out commitments to share power, provide security and compensate victims of the conflict.
A smaller rebel group, the Justice and Equality Movement, has also refused to back the treaty, which was reached with the help of U.S. Deputy Secretary of State Robert Zoellick.
The rebel groups "were not in a position to dictate their terms," the African Union said in its letter, insisting mediators "squeezed many concessions" from Sudan's government.
Among its provisions, the 100-page document lays out a disengagement timetable leading to a referendum on Darfur's regional status in the next four years, and it promises rebels key participation in all levels of regional government.
Copyright 2018 The Associated Press. All rights reserved. This material may not be published, broadcast, rewritten or redistributed. We strive to uphold our values for every story published.