As the summer biking season heats up, some Lawrence kids got a lesson in riding safe Saturday.
"It's all about keeping things fun and getting kids to wear these helmets," said Rob Kort, a division chief with Lawrence-Douglas County Fire & Medical.
So Saturday, Fire & Medical crews brought about 900 new bike helmets to Haskell Indian Nations University, all to hand out to young cyclists ready to begin a summer of pedaling the streets.
Key sponsors State Farm Insurance, Stephens Real Estate, Laird Noller Ford, the city of Lawrence and other vendors and supporters helped with the event.
This event is Kort's passion, an annual tribute to safety that has ballooned into a true fair since it began in 1996.
Back then, Kort and a couple of volunteer paramedics handed out $300 worth of helmets - just about 90 - to local kids.
Now, the fair has blossomed into a massive safety and educational mecca that spans the parking lot outside Haskell Stadium.
State Farm set up a bike riding safety course, complete with orange cones kids had to navigate around and lean straight-aways meant to simulate a bike lane.
"We've done more than just helmets," Kort said. "It's what kids are going to be doing this summer, and how to keep them safe."
Those events for many Lawrence kids include swimming and boating, along with riding bikes and skateboards. So Kort invited U.S. Coast Guard Auxiliary officers and local life guards to offer swimming and boating safety tips to youngsters.
Over by the Fire & Medical boats, Haylee Tubbs and Kristin Tirabassi talked to passing kids about how to stay safe while swimming in local pools this summer.
The two, who work for the Lawrence Indoor Aquatic Center, said swimming safety means more than simply knowing how to doggy paddle and not diving into the shallow end.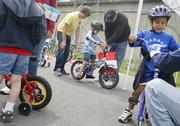 It means not swimming when you're sick and avoiding other habits that aren't exactly sanitary.
"The kids are very enthusiastic about not going to the bathroom in the pool," Tubbs said. Tubbs compared it to swimming in a toilet - which, she said, got the kids' attention.
There were plenty of others here offering safety tips and introducing themselves to children in the community.
Wayne Deaver from the county's Community Emergency Response Team sat in a lawn chair near the county's mobile emergency response truck, giving tours to kids and introducing themselves so, in the case of an emergency, kids would be familiar with the service.
"We do search and rescue for any of us," Deaver said.
But the day was about bike safety first, and Kort hoped that they could give 450 of the blue, red, black and pink helmets away Saturday.
After some recent tragedies - most notably the death of 6-year-old Bryce Olsen - Kort thought new city helmet laws and heightened awareness could lead to a bigger turnout.
"I think this was driven home in January when Bryce Olsen was killed," Kort said.
More about the safety of kids
So for three hours Saturday, volunteers sat on helmet row, strapping kids into new helmets. Paramedics, Douglas County Sheriff's officers, Lawrence school board member Linda Robinson and County Administrator Craig Weinaug all spent time making sure the new helmets fit right.
"There's two Craig Weinaugs," the bandanaed county official said. "That was my bike persona."
Weinaug and the other helmet fitters kept busy all morning, as the line of parents and kids stood 15-deep at any given time.
Nick Mockus sat waiting on his bike as other friends and family went through the helmet line.
"It gets kind of annoying," the 13-year-old said about wearing a helmet. "But I'm fine with wearing one. It's more safe."
Copyright 2018 The Lawrence Journal-World. All rights reserved. This material may not be published, broadcast, rewritten or redistributed. We strive to uphold our values for every story published.