More than anything else, Mike Frick wanted to see his wife, Vivian, graduate from Haskell Indian Nations University.
"He kept telling me to finish school, to get a good job and set a good example for our children," Vivian Frick said. "So here I am."
Frick, dressed in traditional Seminole garb - a silky, pale lavender blouse atop a purple patchwork skirt - rather than a graduation gown, received a bachelor's degree in business during commencement services Friday at Haskell Memorial Stadium.
Mike Frick, a former Haskell football player, wasn't there. He died Jan. 3.
"He had cancer," Vivian Frick said. "He died in Fort Worth, where we lived, but he kept telling me to come back and get my degree. That's what he wanted."
Frick, 46, plans to return to Fort Worth, where she's lined up a job with the public school district's human relations department.
"Haskell and my husband have been an inspiration to me," she said. "I want to be a leader. I want to set a good example for young people."
More than 2,000 people - most wearing jackets to fend off the chill from a brisk wind - attended the two-hour ceremony.
Several speakers encouraged the students to assume leadership roles in Indian Country:
¢ "We need you out there," said Garrison Tahmahkera, a 1955 graduate of Haskell Institute and recipient of the 2006 Outstanding Alumni Award.
¢ "Keep learning and help others," said Haskell President Karen Swisher.
¢ "We don't have time to wait for the future. We need you to be the leaders of today," said keynote speaker Ernie Stevens Jr., a 1983 Haskell graduate and chairman of the National Indian Gaming Commission. "We need you to make a difference."
Stevens, who played basketball for Haskell, admitted he had been a less-than-stellar student who needed - and eventually responded to - guidance from a caring faculty and staff.
"Haskell helped me learn to behave," he said, citing the efforts of longtime Haskell employees Scottie Harjo and Dempsey Micco, who died in February and March, respectively. Harjo was 78; Micco was 67.
"Everyone here becomes family," Stevens said.
Of the 186 graduates - a record number - 78 received bachelor's degrees in American Indian studies, business administration, elementary education or environmental science.
Terra Houska, 26, used a degree in environmental science to land a job with the U.S. Forestry Service at the Black Hills National Forest in Wyoming. It wasn't easy.
"Before I came to Haskell, a job counselor with the Forestry Service told me a degree from Haskell wouldn't get me hired," said Houska, an Oglala Sioux. "I got hired anyway, but I want to get in there and show them what I can do so that other Haskell grads can follow me."
Teresa Erin Parker is taking her associate degree to Northeastern State University in Tahlequah, Okla., where she'll major in early childhood development.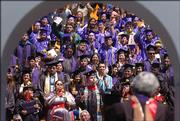 "My daughter could have gone to any college she wanted to," said Parker's father, Sam Jones, who's Kiowa-Cherokee.
"But she chose Haskell," he said, "because she came up through the public school system in Tulsa, and she wanted to get back to her Indian culture. I thought it was great because, today, so many Indian kids are so confused, they don't know what they are."
A Haskell cheerleader, Parker made almost all A's, earning her a spot on the list of magna cum laude graduates.
"I really enjoyed being around other people who are like me and who want to succeed," Parker said.
Copyright 2018 The Lawrence Journal-World. All rights reserved. This material may not be published, broadcast, rewritten or redistributed. We strive to uphold our values for every story published.