Baghdad, Iraq — U.S. and Iraqi forces Thursday rescued seven Sunni Arab men seized by suspected Shiite militiamen near Baghdad, part of a campaign to suppress sectarian death squads responsible for hundreds of deaths this year.
The kidnapping was the latest in a wave that is plaguing the country. Many of the abductions are part of the sectarian warfare in the Iraqi capital, home to large communities of Sunnis, Shiites and Kurds.
Iraqi police said the trouble started when dozens of gunmen, some of them wearing military uniforms, raided two Sunni villages near Khan Bani Saad, 25 miles northeast of Baghdad, and abducted 10 young men.
Village leaders and clerics alerted police and U.S. soldiers, who rushed to the scene, clashed with the gunmen and rescued seven of the hostages, police said.
Three others were missing and presumed taken away by gunmen, police said.
U.S. troops killed at least one kidnapper and wounded another, said Lt. Col. Thomas Fisher, commander of the 1st Battalion, 68th Armor.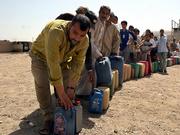 Some of the hostages had been severely beaten, he told Associated Press TV News.
More than 30 people were taken into custody, Iraqi police said, and interrogators were trying to determine their identities.
Some gunmen told police they belong to the militia loyal to radical Shiite cleric Muqtada al-Sadr and had come from Baghdad, Iraqi authorities said.
Fisher said the incident may have been "tribal in nature."
He did not elaborate, but tensions have been running high for months between Shiite and Sunni communities in religiously mixed Diyala province.
Three U.S. soldiers were killed when roadside bombs hit two U.S. Army convoys, the military said.
The U.S. command also announced that a U.S. soldier died Tuesday from non-combat-related wounds.
Copyright 2018 The Associated Press. All rights reserved. This material may not be published, broadcast, rewritten or redistributed. We strive to uphold our values for every story published.