For as long as anyone can remember, Haskell Indian Nations University has solved fiscal ills by begging federal bureaucrats for more money.
That used to work. It doesn't anymore.
"It's crazy for us to keep lobbying the Bureau of Indian Affairs. It's crazy for us to lobby the Department of Interior," said Joe A. Garcia, president of the National Congress of American Indians.
"They have no control. Ask yourself, do they advocate for us?" Garcia asked, addressing a Thursday gathering of tribal leaders at Haskell. "The answer is no, they really don't."
Garcia, who's also governor of the Pueblo of San Juan, N.M., urged members of the Haskell Board of Regents to bypass the bureaucracy and lobby Congress directly.
He wasn't alone: "It doesn't do any good to go to the BIA," said Harold C. Frazier, chairman of the Cheyenne River Sioux Tribe, S.D., and the Great Plains Tribal Chairman's Assn.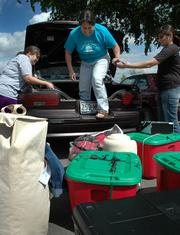 Haskell convened the daylong meeting to gauge tribes' willingness to help finance the university's budget and to begin the process for developing a new financial strategy.
Haskell's classroom budget - about $9.1 million a year - has lagged inflation for at least four years. Currently, 30 percent of the university's full-time faculty positions are vacant.
"Today was a first step, a good first step," said regents President Gil Vigil, who's also governor of the Taos Pueblo of Tesuque, N.M.
In the coming months, Vigil said, Haskell will ask other American Indian associations and tribes to add the university's needs to their lobbying priorities.
"We will assist them," he said.
The university, he said, is not interested in just asking tribes for money. Instead, Haskell needs to - and will - do a better job of selling itself to Indian Country.
Haskell events
Today 10 a.m., Commencement, Haskell Memorial Stadium. Noon, luncheon for graduates and families, Curtis Hall. 1 p.m., Haskell Alumni Assn. board meeting, Stidham Union. 3 p.m., memorial service, Haskell Cemetery. 6 p.m., alumni banquet, Lawrence Holidome. 7 p.m., graduation powwow, Haskell powwow grounds.
Saturday 9 a.m., Indian fast pitch softball tournament, Clinton Lake Sports Complex. 11 a.m., sixth annual Haskell golf tournament, Lake Shawnee, Topeka. 1 p.m., graduation powwow, Haskell powwow grounds.
Garcia, a 1972 Haskell graduate, agreed.
"It's true that Haskell is well known in Indian Country, and that there are a lot of Haskell graduates out there," he said. "But that's not enough. It needs to promote itself."
The best way to do that, he said, is for Haskell to "find out what Indian Country needs and then find ways to meet those needs."
Support, Garcia said, will follow.
Other strategies:
¢ Raising student fees or tuition.
¢ Adopting a "food-work contribution system" in which students who couldn't afford higher fees or tuition could, in exchange, help with chores on campus.
¢ Encouraging donations to the Haskell Endowment or the Haskell Foundation.
Though the foundation was forced into bankruptcy in 2000, it's since been restructured, and most of its debts have been paid off or forgiven with revenues generated by grants it administers.
"I started at the foundation in 1998, and this is the first time we've ever had any money," said Michael O'Leary, the foundation's sole employee.
The foundation recently donated $5,000 toward the luncheon following today's commencement ceremony. More than 2,000 people are expected to attend.
Senators respond to budget woes
The Journal-World contacted U.S. Rep. Dennis Moore and U.S. Sen. Brownback's offices Tuesday, seeking comment on Haskell's budget woes. Brownback's office did not respond by Thursday evening. Moore's response: "As one of only two Native American universities in the United States, Haskell is not only important to Lawrence, it's important to our country," Moore said. "I've consistently supported increased funding for Haskell so that the progress the students and faculty are making is not hindered. In the end, the final allocations of funding for Haskell within the Bureau of Indian Affairs budget are made by the administration and the secretary of the Interior. I will, however, continue to work to bring Haskell's needs to their attention."
Copyright 2018 The Lawrence Journal-World. All rights reserved. This material may not be published, broadcast, rewritten or redistributed. We strive to uphold our values for every story published.