Editor's note: About 10 years ago Journal-World senior editor Bill Snead wrote John Beeghley, the senior elder of the Willow Springs Old German Baptist Church, asking if he could interview him for a story. After meeting with Beeghley and another minister, Merle Flory, Snead was invited to attend their church services "to get to know us better and to see just what we do."
Snead has attended services there since that meeting.
When John Beeghley would bring Sunday church services to a close, he'd thank the congregation "for their attendance and good attention" and announce the time for the next Sunday's service. But there was always a contingency. He'd add that it would happen only "if the Lord tarries" or "if the Lord wills it."
He often told those around him, either from the front of the Old German Baptist Brethren meeting house in Willow Springs or in his living room, that Jesus could return any day and "we are only one breath away from our last, and only God knows when that might be."
That was John's reminder that the time to walk the walk was now. He didn't believe in preaching fire and brimstone.
"Frightening people won't get them into heaven," he'd say.
John was tall and lean with large farmer's hands. His voice, a soft baritone, began somewhere beneath a long, gray beard that covered his chest. He was bald and his left eye, damaged at birth, made his serious expressions seem even more serious.
If it was your first experience with him, you'd think that look could wilt lettuce. But behind that seemingly stern visage was a kind soul with a deep passion for people and the Scriptures. He also had a great sense of humor.
"The Titanic was billed as an unsinkable vessel," he said, holding up his Bible. "But this is the unsinkable vessel: the New Testament."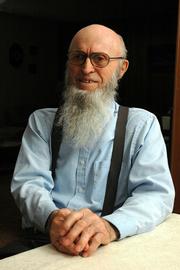 He often recited poetry during his sermons.
He'd explain, "Pentecost means 50th day in Hebrew."
And he believed "an ounce of example is worth a pound of preaching."
Often during a conversation he'd answer questions with a riddle.
He was asked his thoughts about a Douglas County man who was buying several smaller farms in the Pleasant Grove area.
"Do you know the meaning of enough?" John asked. "It's always just a little more."
Heeding the 'call'
John died Wednesday morning less than 100 yards from the Douglas County farmhouse where he and his brothers were born.
He was 84. He farmed and raised cattle nearly all his life.
John was baptized in a pond at 21 and at 36 he was "called" into the ministry. In the Old German Baptist church, "called" is the appropriate word. Unlike most ministries, you don't apply for the job and there is no salary involved.
Most churches have several ministers, all local residents with regular jobs. Their numbers depend on the size of the congregation. They sit up front at a long table facing the back of the meeting house and all take part in the service.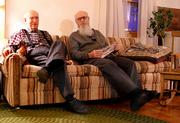 When a replacement is needed, for whatever reason, church members meet to choose a fellow church member or members. All, one at a time, go into a closed room and say the name of their candidate to the ministers. It's called a "private voice."
When voting ends, the person with the most votes is the new minister. New ministers have limited duties and, for example, can't baptize or perform marriages.
No one lobbies for the position. The calling by the congregation is often a surprise to those chosen.
When John was asked if anyone had ever declined the time-consuming and responsible position, he said, "I can only recall one man doing that," and, he said, "that was unusual."
John spoke often and fondly about his one-room-school education. He liked it so much that he spent nine years going through eight grades, lingering twice in the eighth grade. "By choice," he'd say, "by choice."
Eight years ago we met John's boyhood teacher, Olive Randel, who still called him Johnny. She sang his praises as a student and for being bright and self-educated. "He's learned a lot on his own," she said.
He recalled as a teenager that his days were busy milking cattle and farming with his brothers Lloyd and Harold and his father, Dan. But he still had time to miss school. He bought a used typewriter and a kneehole desk and took a correspondence course on farm engineering and management.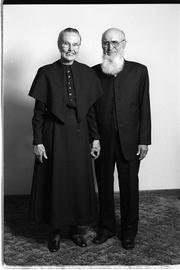 "I still have my La Salle University diploma," he said, smiling.
Courting and cookies
He married Ethel Kinzie in 1943, two years after meeting her at a church affair in Sawyer. She died in 1996 after suffering a series of strokes and Alzheimer's. John, along with his family and Visiting Nurses Assn., provided care for four years.
After rattling around his empty house, he found that a trip to the Holy Land and to several annual church conferences did nothing to help his morale. He wrote a letter to Anna Hirt, a widow and an old acquaintance who lived near Garnett.
During the past years John had learned to cook, so he sent two boxes of his homemade cookies to Anna. The second box was for her 91-year-old mother.
"I thought we could wait until later to tell her who they were from," John said.
After Anna invited him for an early dinner, the 78-year-old suitor arrived at her door with a bouquet of roses.
"We had a good meal of fried venison : a good visit," he said.
The pair then called on Anna's mother before he returned home.
John and Anna were married in a private ceremony on Good Friday 2000, but not before John got feedback by talking with his family and members of his church and by calling many of his friends. During his phone calls, he described who Anna was, how they met and their marriage plans. The enthusiasm in his voice said it all.
At the end of one of John's sermons about life and aging, he said: "The Scriptures come to me, and by the time I get to them they leave me, so I guess it's time for me to sit down. : Remember : it's all in the Scriptures."
Copyright 2018 The Lawrence Journal-World. All rights reserved. This material may not be published, broadcast, rewritten or redistributed. We strive to uphold our values for every story published.