Two doors down from a very big hole in the ground, Darwin and Susan Eakins were unhappy Thursday.
The hole was being dug to remove soil where gasoline tanks at Presto Phillips 66 gas station, Ninth and Louisiana streets, are believed to have leaked - contaminating two city blocks and sparking an April 30 house fire.
"It's a big, old mess," Susan Eakins said. "We're not happy."
Darwin Eakins said workers had determined the gasoline leak had spread to soil 16 feet under the yard of his 100-year-old Louisiana Street home, where he and his wife have lived for 30 years.
"What it does to the value of your house : concerns me a lot," he said. If "I wanted to sell the house, I'd be in a hell of a bind."
Many nearby residents were concerned Thursday, the day after officials from the Kansas Department of Health and Environment revealed the extent of the area affected by the leak.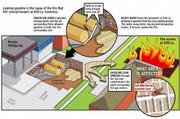 "One of my neighbors said, 'Watch to see if your plants die,'" said Theresa Shetler Logan, who lives in the 800 block of Louisiana. "That doesn't make me feel very good."
When leaked gasoline entered the basement of 838 La. on April 30, the furnace ignited a fire that destroyed the home, which contained five apartments.
The homeowners, Lelon Capps and Kandis Capps Taylor, along with Curtis Johnson, a tenant in the destroyed home, filed a petition in Douglas County District Court seeking damages against the owners of the Presto gas station, Presta Oil Inc.
State workers have responded to the situation by removing the tanks and surrounding soil, creating a cavernous hole more than 15 feet deep along one of Lawrence's busier thoroughfares.
"Vapor extraction systems" to help vent gas fumes from below ground were being installed on nearby properties, officials said.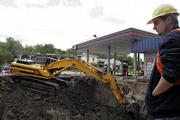 Gasoline fumes have been found at just one property, officials said: the law offices of Petefish, Immel and Heeb. Lawyers there were unavailable for comment.
"We're just moving forward with our recovery efforts," said Dan Kellerman, an incident manager for KDHE. "I'd say you'll see quite a bit of activity here for another week, as far as the manpower we have at the site."
The Presto leak, while large, may not be unusual. The Environmental Protection Agency says more than 150,000 leaking underground storage tanks need cleaning up across the nation. EPA officials couldn't comment Thursday on how many of those sites are in Douglas County.
Todd Brendmoen, a Presto representative, did not return a call for comment.
Darwin Eakins on Thursday said he'd called government agencies, trying to get Presto shut down. His neighbors are worried the gasoline contaminating their properties could take as much as a decade to evaporate.
"Not a hell of a lot you can do," he said. "Just give it time."
Copyright 2018 The Lawrence Journal-World. All rights reserved. This material may not be published, broadcast, rewritten or redistributed. We strive to uphold our values for every story published.