What do a gung-ho German, an against-all-odds ironwoman and a 34-year-old former forester have in common?
No joke: They race for the Kansas University cycling club, which starting today will serve as host for the USA Cycling Road Nationals, the Super Bowl of the college cycling scene.
"I have a former triathlete, former runners, graduate students," second-year KU coach Christopher Hess said. "Everybody has an unusual story."
Collegiate cycling seems to attract them.
There are 10 regional conferences and two divisions in college cycling. Schools with more than 15,000 students race in Division I, while smaller schools compete in Division II.
More than 300 schools have cycling clubs, but they're just that - clubs.
Unlike varsity sports that are governed by the NCAA, cycling clubs operate under a very different set of rules.
At some schools, cyclists have to pay dues to join the team. Some don't have even part-time coaches, a few hold mixers to recruit athletes to the team, and some collegiate cyclists also race as professionals.
And the eligibility rules are nothing like the NCAA's. In fact, some collegiate cyclists come to the sport after their eligibility has expired in the varsity sport that recruited them to a given university in the first place.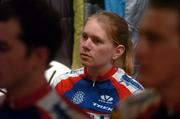 As a result, a motley and mixed crew like KU's cycling club comes to be.
Here's a look at three of the Jayhawks who will compete this weekend.
Christian Beer
First up is the gung-ho German.
Beer spent a summer as an exchange student at Chillicothe (Mo.) High. His father had a similar stint at Raytown (Mo.) South High.
So, naturally, Beer decided he wanted to attend KU, and though he brought his bike, he didn't think about joining the cycling club until his dorm resident advisor mentioned it to him.
"I didn't really know about the cycling team. I rode at home a little, but not competitively," said Beer, a 21-year-old sophomore from Wunsiedel, Germany.
Initially, Beer used cycling to stay in shape for martial arts.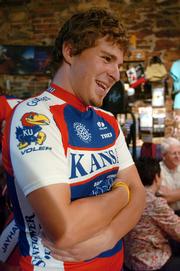 But the balance soon shifted.
"My sensei said I spent too much time on the bike, that I'd never amount to anything, and here I am, riding in nationals," Beer said. "I proved him wrong. I'm impressed that it worked out."
He isn't alone.
Though Beer might not be KU's top cyclist, he caught his coach's eye with his drive.
"Christian Beer is the German machine. That's what we call him," Hess said. "He's the emotional leader. He's the most motivational. He just wants it so bad. He wanted this berth for two years. There's a lot of character with him."
A year ago at this time, Beer was working as a volunteer to help put on Col Nats. It made an impression.
"I wanted to do it, but I realized I couldn't hold 30 miles per hour, so I worked hard so I could do it this year," he said. "I was like, 'Man, they go fast. I want to be in that peloton.' It definitely motivated me. It's where I wanted to be."
Beer will compete in today's team time trial and Sunday's criterium, a lap race around downtown.
Kim Kissing
A former runner, Kissing is the only KU cyclist who will compete in all three events this weekend: today's team time trial, Saturday's road race and Sunday's criterium.
By weekend's end, Kissing likely will have ridden close to 90 miles.
"Kim is very experienced," Hess said of Kissing, who won this season's Northcentral Collegiate Cycling Conference individual championship. "She's had to do it the hard way. She hasn't had a lot of teammates. In some cases, it's been just herself, so that's a testament to how strong she is."
While cycling is the ultimate individual sport, it also demands teamwork. One strong cyclist won't win a team time trial, for example, where the team's time is determined not by the first cyclist to cross the finish line but the last.
And in road races, teammates "pull" the leaders up hills, chase down breakaways and protect the leaders from crashes and attacks. Heck, sometimes they even serve as pack mules, ferrying food and drink to those in need.
But Kissing, a 22-year-old senior from St. Louis, often competes with few or no teammates.
"For me, that's just something I've become accustomed to. I'm just used to that by now," she said. "Other people become your teammates, especially in the big races. That's happened in the past, when cyclists from other teams in your conference become your teammates."
About the races
Want to head out to the USA Cycling Collegiate Road Nationals but don't know when or where to go? Col Nats is made of three events: today's team time trial, Saturday's road race and Sunday's criterium. In all, 300 of the nation's top collegiate cyclists are expected for the event. Here's a look at the three different kinds of races that will be contested, with suggestions for the best places to view the event and commentary from Kansas University cycling club coach Christopher Hess:
Team time trial What: In the team time trial, squads of three or four riders - usually riding special time-trial-specific, aerodynamic bikes - work together to achieve the fastest possible time over a 12-mile course. Riders rotate turns at the front of the group, breaking the wind and "pulling" the others. The time of the third rider determines the group's time. When: Beginning at 8:30 this morning on the South Lawrence Trafficway. Hess says: "Winning this event is like golf - the team with the 'fewest strokes' is the victor. The winning teams will average nearly 30 mph." Where to watch: Anywhere on the course, but the start/finish line at 27th and Wakarusa Drive is the best bet.
Road race What: As its name suggests, the road race is a circuit around the 28-mile course around Lake Perry. Race duration varies from 56 to 84 miles depending on the category. Fastest time wins. When: Starting at 8 a.m. Saturday. Start/finish is adjacent to the Thompsonville Recreation area. Hess says: "Last year, KU's Brian Jensen placed third in this event and now rides professionally for Team Jelly Belly." Where to watch: The pack, or peloton, could get spread out, but the action likely will be concentrated over a short period. Best bet is the start-finish line. Keep an eye on break-aways - riders trying to escape the peloton - if possible.
Criterium What: The criterium - or crit - is a frenetic lap race around downtown Lawrence. The distance is a combination of time and laps; for instance, most divisions will complete 65 minutes plus three laps around the one-mile course. Probably the most exciting race for viewers. Last year, riders averaged 29 mph on a six-corner course. This year, the course is a figure-eight. When: Starting at 7 a.m. Sunday, downtown. Start/finish is at Ninth and Mass. Hess says: "This year's figure-eight is expected to slow the speeds slightly, but not the excitement. Local radio station personality Chris Merrill will join national cycling announcer Dave Towle to update spectators on what is happening throughout the criteriums." Where to watch: Best bet is at the start/finish line or at Eighth and Mass., since riders will speed through there twice per lap.
For the first time in her four-year KU career, Kissing has the luxury of competing in the team time trial.
"I'm excited about the women's team time trial," she said. "Last year, I was the only woman on the team."
Slowed when she found herself behind a crash, Kissing placed 66th in last year's road race. She was pulled from the criterium and not allowed to finish.
A former runner, Kissing also races for the Boulevard Brewery team out of Kansas City. And despite her experience, she can't help but be a bit surprised when she occasionally lines up against professionals.
"It is unusual that you sometimes race against pros, but it's all college cycling," she said. "We're all united in that we're all students. We all have to find ways to study and ride."
Does she really think it's a level playing field?
"Not quite," she said with a laugh, "but we still are all students."
Paul Heimbach III
Heimbach is the elder statesman of the KU cycling club.
Heck, he might be the oldest student-athlete on Mt. Oread.
The 34-year-old from Merriam went to Johnson County Community College out of high school and worked "odd jobs," and worked as a freelance photographer for a few years.
"When I turned 26, I decided I needed to go back and get a degree," he said.
So he headed to Portland, Ore., to study forestry. Associate's degree in hand, Heimbach eventually grew homesick, and in 2002 he enrolled at KU for environmental studies.
A four-year veteran on the club, Heimbach got serious as a senior.
"I've always ridden. I knew if I worked really hard I could get on the nationals squad," he said. "I knew it would take a lot of time in the offseason to train right. That was always one of my weaknesses. I wouldn't do as well as people I was competing against just because I didn't train as hard in the offseason. I knew if I worked at it there was a good chance to get on the nationals squad."
Though the graybeard, Heimbach doesn't sense a generational gap.
"I've been riding a long time, since the age of 12," he said. "I've been riding longer than some of these guys have been alive.
"But it's a lot of fun. I know where they're coming from. I can relate to them still. A lot of times, age doesn't make a lot of difference. We're all students at KU. We all like riding. It's the common bond that makes us gel as a team. We've got a guy who's 19. I'm 34. They're 21, 30, 27 - there's a whole mix."
That's what makes collegiate cycling unusual, if not unique, and Heimbach, for one, doesn't mind the sacrifice it entails.
"We're all into it. We rent the vehicles. We drive to the cities. Sometimes there are five people in a room," he said. "But that's one aspect of this sport at this level. We're all in this for the love of it. We're not getting scholarships. We just love it."
Heimbach will compete in Saturday's road race.
Copyright 2018 The Lawrence Journal-World. All rights reserved. This material may not be published, broadcast, rewritten or redistributed. We strive to uphold our values for every story published.