Los Angeles — "I never compare what we do to real-life work, but at times this was like going to work on an oil rig," says "Poseidon" lead Josh Lucas. "It was very dangerous, very uncomfortable and scary. It was as challenging as work gets."
Lucas ("Glory Road") plays a card shark reluctantly put in the take-charge position of helping a group of passengers escape a sinking cruise ship. He found the experience of shooting the movie very similar to the struggle his character had to go through.
In addition to daily near-drownings, he endured a stray flashlight conk to the face by castmate Kurt Russell that left him with a gushing wound. He also nearly lost his thumb while filming a watery escape from a ballast compartment.
"As I was climbing the walls I slipped and took the entire weight of my body onto my thumb," says Lucas, during press roundtable interviews in Los Angeles prior to the film's premiere. "That muscle actually rolled back up into my thumb to where it was just bone and skin."
The ligament injury was serious enough to threaten shutting down production for a number of months while it healed. But Lucas waited to have surgery until the day after the flick wrapped.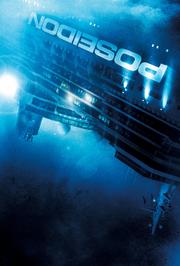 "I went home from this movie regularly and said a prayer that no one had been killed," he admits.
The prayers must have helped, because the death count was zero during the $140 million production. The only casualties audiences will be subjected to are the fictional kind, depicted onscreen with the kind of digital gusto only a summer blockbuster can deliver. The visual results are impressive enough that the movie also is being released in IMAX format so that every torrent, flame and explosion can be seen in magnified grandeur.
This type of effects-driven shoot was quite a change for actor Richard Dreyfuss, who is still best known for a classic movie about a maritime menace.
"It wasn't like the 'Jaws' experience at all because 'Jaws' was real Atlantic Ocean," says Dreyfuss, who plays a suicidal architect in the film. "This was the great fake-aroo possibilities of Hollywood. Special effects, seven stories turned over, 90,000 gallons of water pouring in and stunt people. It was all Hollywood fakery at its best."
Not untouchable
"The Poseidon Adventure" ushered in an era of disaster epics in the early 1970s. The campy movie is best remembered for its constant shouting matches between stars Gene Hackman and Ernest Borgnine, and for the diving exploits of Oscar nominee Shelley Winters.
"I only saw it once as far as I can remember, but it's a pretty indelible movie," Dreyfuss says.
"I told Gene Hackman once that I thought he had the honor of having to say the worst line in the history of movies: 'I'm a new kind of minister: angry, rebellious, questioning.'"
Movie
Poseidon
**
It's unfair to call "Poseidon" a remake of 1972's "The Poseidon Adventure." Yes, it's the same ship, same wave and same topsy-turvy result. But none of the same characters from the original are onboard. In fact, there are hardly any "characters" at all, just archetypes who must endure elaborate (and generally tense) scenes of action.
Get movie listings, reviews, and more at lawrence.com
-->
-->
As with most remakes of a beloved picture, there are fans who are as appalled at the idea as there are intrigued by it.
"I know a lot has been written about 'Poseidon Adventure' because it was the first of its genre," says Russell. "But it's not 'Casablanca.' It's not 'Gone With the Wind.' It's certainly not untouchable."
Russell, who contracted pneumonia during the shoot, was drawn to the update for two reasons. The first was he wanted to work with Wolfgang Petersen, the German director responsible for the successful ocean-themed efforts "Das Boot" and "The Perfect Storm."
The second reason was he wanted to drown.
"There have been a couple times in my life where I've had great experiences acting, and they usually come in short fits and spurts," he says. "And this was one of them, because I thought my drowning scene was really great. I know it's real because I studied up."
Coincidentally, his manual for the task was the book version of "The Perfect Storm."
He rehearsed holding his breath until just the point where he would start to pass out, then hoped the nearby stunt divers would react quick enough to give him air.
Despite the somewhat controlled environment of a studio set, he claims the sensation is the same whether one is surrounded by a film crew or stranded in open water.
'The Poseidon Adventure' vs. 'Poseidon'
"The Poseidon Adventure": released in 1972 "Poseidon" released in 2006
"The Poseidon Adventure": $5 million budget "Poseidon": $140 million budget
"The Poseidon Adventure": made $84 million at the box office "Poseidon" projected to make $84 million at the box office
"The Poseidon Adventure": Maureen McGovern's song "The Morning After" wins an Oscar "Poseidon" Fergie's song "Won't Let You Fall" won't win an Oscar
"The Poseidon Adventure": Stella Stevens plays an ex-hooker "Poseidon" Jacinda Barrett is an ex-member of MTV's "The Real World"
"The Poseidon Adventure": Best acting involves Stella Stevens pretending to be turned on by Ernest Borgnine "Poseidon" Best acting involves Kurt Russell attempting not to drown
"You get down in that water and there's no escape. The lighting is in your face so you can't see. Then you play the thing out, and you're out of air," Russell explains. "We're sitting here at a table talking about it, but it's very different when you get underwater and your senses become overwhelmed."
Real-life disasters
One aspect that often overwhelmed the actors was being aware of real-life disasters going on while they were crafting a fictitious one.
In the wake of the Asian tsunami and Hurricane Katrina, the cast members surmised that individuals would likely behave very differently than how they do in action movies ... specifically, "The Poseidon Adventure."
"The strength of the original is what this movie doesn't have in many ways: the cheesy, playful, fun, silly interactions between these characters inside this situation," Lucas says. "We were watching disasters on CNN in our trailers as we were watching this film, and going, 'Truthfully, these people would not be having conversations; they would not be talking about their high heels.'"
He says that aspect is what illustrates the absolute disconnect between "Poseidon" and the first picture, in which characterization took precedence over action.
"What you're dealing with in this movie so often was we are not acting, we are reacting," Lucas says. "(Petersen) put us in situations that were so astonishingly realistic that you're deeply physically and emotionally challenged by them."
And how would Lucas respond if put in a similar position for real?
"I wouldn't go on a cruise ship now," he says laughing.
Nineteen-year-old actress Emmy Rossum is herself a veteran of disaster movies (She was one of those left alive at the end of "The Day After Tomorrow.") She says that the constant media exposure to catastrophes has people asking themselves, "What does it take to survive in a situation like this?"
"I can only hope I'd have as much courage as our characters," Rossum says. "But if I spill a cup of tea in the morning I'm like, 'Oh my God, it's a disaster!'"
Copyright 2018 The Lawrence Journal-World. All rights reserved. This material may not be published, broadcast, rewritten or redistributed. We strive to uphold our values for every story published.