State forestry experts are trying to bring back to life small parts of a mighty cottonwood that once stood in Ozawkie near Perry Lake before a series of storms virtually destroyed it over the past few years.
The cottonwood, estimated to be up to 200 years old when what was left of it was brought down in March, was on the Kansas Forest Service's list of Champion Trees of Kansas from 1984 until 2003.
"It was a great old tree," said Jefferson County Commissioner Francis Grollmes, who played baseball near the tree as a youth.
Sprouting hope
The service is trying to develop a sapling from small branches it took from the tree. If the effort pays off, the service hopes to be able to plant a sapling next year on Arbor Day at the site where the old cottonwood stood, Forester Charles Barden said. So far foresters at the service's Manhattan greenhouse have had little luck, he said.
If the tree had been younger, getting wood from it to sprout and grow roots would be easier, he said.
"This tree was so old and decrepit," Barden said. "We were able to get some sprouts, but they aren't growing many roots and they aren't sturdy enough to plant anywhere."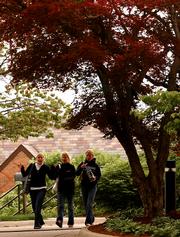 During an Arbor Day celebration April 28 in Ozawkie, the Forest Service gave out a few twigs from the cottonwood to the public while warning them that even experts were having trouble getting them to grow, Barden said.
"We're trying different techniques, but we're having limited success right now," he said.
The cottonwood sustained initial major damage after a July 2003 storm when it lost large branches. More storms caused additional damage until it was discovered earlier this year that only a fourth of the main trunk remained, said Bunny Watkins, the Army Corps of Engineers park manager at Perry Lake.
"We could see that there was a crack line where it was getting ready to go again," Watkins said of the tree that once stood 116 feet tall with a crown spread of 124 feet. Its trunk had a circumference of nearly 30 feet.
The remainder of the tree was brought down March 24 with more than 100 people watching, Watkins said.
What makes a champion
Storms have taken a toll the last few years on some of the area's magnificent trees, including one in Lawrence listed as a champion tree.
The March 12 microburst took down a pin oak tree that had stood next to Potter Lake on the Kansas University campus, KU landscaping manager Mike Lang said.
The oak had been measured to be 110 feet tall with a crown of 94 feet. A second champion tree on campus still stands. It is a Japanese maple near the chancellor's house that's 21 feet tall with a 26-foot span.
There are two other champion trees listed in rural Douglas County: a shagbark hickory and a blackjack oak near Baldwin. Several champion trees are found in Leavenworth, Shawnee, Franklin and Johnson counties.
The Forest Service receives nominations for champion trees and then examines them. The selection of a champion tree is based on height, trunk circumference and crown span. Those measurements result in a points rating that determines whether it is of champion caliber.
Part of the cottonwood's trunk recently was cut into six long sections that Watkins hopes can be made into park benches and placed at the old tree site.
"I know cottonwood isn't the best wood for outdoor use, but I'm hoping that if I put a lot of polyurethane on it, it will work," Watkins said, adding that she also would seek the advice of a cabinet maker.
The Ozawkie tree was replaced on the champion list by an 82-foot-tall eastern cottonwood near Studley in Sheridan County. It has a crown span of 123 feet and a trunk circumference of more than 32 feet.
Copyright 2018 The Lawrence Journal-World. All rights reserved. This material may not be published, broadcast, rewritten or redistributed. We strive to uphold our values for every story published.