Barry Bonds has displayed impeccable timing at the plate throughout his decorated career.
Now, everything is lined up just right for him to tie Babe Ruth: The rival Los Angeles Dodgers are coming to town the same day the Giants will throw a belated 75th birthday bash for his godfather, Willie Mays.
Bonds remained one home run shy of Ruth's 714, going 0-for-3 with two walks that keyed a pair of rallies in San Francisco's 9-3 victory over the Chicago Cubs on Thursday.
The slugger will resume his pursuit tonight against the Dodgers and Brad Penny, who has allowed three homers to Bonds.
Bonds didn't talk to reporters afterward, standing in the hallway holding a baby girl before leaving the ballpark.
"I like that, getting out early," he said, laughing.
Bonds' homerless stretch reached three games, and the banners to honor him were still rolled up and waiting to be unfurled from two light towers in center field on each side of the main scoreboard.
But Bonds still contributed plenty by getting on base. He was intentionally walked in a five-run first inning and drew another free pass ahead of Steve Finley's bases-loaded triple in the fourth as the Giants gave Jamey Wright (3-3) more than enough support.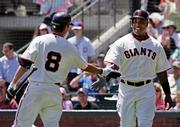 "It's nice to go out there and score five runs," Wright said. "It takes the pressure off and I can just pound the strike zone."
San Francisco scored six runs following Bonds' walks.
Pedro Feliz, Mike Matheny and Kevin Frandsen also drove in runs in the first inning to stake Wright to a big lead, and the right-hander allowed two runs in 71â3 innings to snap a three-start losing streak. He left to a loud standing ovation.
Reds 5, Nationals 4, 11 innings
Cincinnati - Ken Griffey Jr. made a dramatic return to the Cincinnati lineup, hitting a three-run homer in the bottom of the 11th inning. The 36-year-old outfielder hit the second pitch from Joey Eischen (0-1) for his 539th career homer, and one of the most unlikely in the bunch. Griffey hadn't played for a month because of a strained tendon behind his right knee.
The Reds rallied against one of the NL's most overworked bullpens to set up Griffey's decisive swing. Felipe Lopez had a run-scoring single in the 11th off Felix Rodriguez, who then walked Edwin Encarnacion with one out and the Nationals clinging to a 4-2 lead.
Phillies 2, Mets 0, 5 innings, rain
Philadelphia - Center fielder Aaron Rowand broke his nose on a spectacular run-saving catch, Chase Utley homered, and Philadelphia beat New York in a rain-shortened game.
Braves 9, Marlins 1
Miami - Dontrelle Willis was roughed up again, and Atlanta had a season-high 18 hits to back Tim Hudson. Matt Diaz went 5-for-5 with two runs and an RBI.
Padres 8, Brewers 5
San Diego - Jake Peavy tied his career high with 13 strikeouts and allowed two hits in seven scoreless innings to lead San Diego to its 11th victory in 12 games.
Astros 4, Dodgers 2
Los Angeles - Wandy Rodriguez took a shutout into the seventh inning.
Copyright 2017 The Associated Press. All rights reserved. This material may not be published, broadcast, rewritten or redistributed. We strive to uphold our values for every story published.