St. Louis — Albert Pujols has an aching back. Somehow, it's opposing pitchers who are hurting.
The reigning NL MVP missed a game because of stiffness earlier this month, and he's reduced his batting practice cuts since returning to the lineup. His production, however, remains at his usual elite level.
Pujols leads the major leagues in home runs (18) and RBIs (43) after hitting a pair of key long balls to help the St. Louis Cardinals take two of three games from the Colorado Rockies this week.
"It's bothering me, it's bothering me a lot," Pujols said. "There's nothing you can do right now.
"It's either sit down for 15 days and let it heal or keep going with pain, and that's what I'm doing pretty much, playing with pain."
Pujols, batting .328 with an NL-leading 35 runs, contends he's been at a disadvantage lately because he's been unable to capitalize on certain pitches.
"It's real frustrating," he said.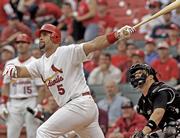 But he'll get no sympathy from the opposition, which sees no letup in a succession of savage strokes that produce power to all fields.
Pujols hit 201 homers his first five seasons, second-best in major-league history behind only Hall of Famer Ralph Kiner. But until now he's never been a contender for the home run title.
This season Pujols has become the second-fastest player to reach 18 homers, getting there in only 35 games. While Barry Bonds chases Babe Ruth's still-hallowed 714, Bonds is being pursued by Pujols.
In his record 73-homer season in 2001, Bonds reached 18 homers in 42 games. Pujols also is well ahead of former Cardinal Mark McGwire's 70-homer season in 1998, in which he hit No. 18 in Game 43.
Then again, the only player faster to 18, Cy Williams of the Philadelphia Phillies in 1923, finished with only 41.
The most impressive aspect of Pujols' early charge is almost none of it has been for show.
He's homered in 10 of the team's 12 series, a mark of consistency. He has the go-ahead hit in eight of the Cardinals' last 13 victories, thriving on the pressure. Teammates just know he's going to come through.
"He's an unbelievable player, an unbelievable hitter," pitcher Chris Carpenter said. "He's a human being and he's going to make mistakes and he's going to make outs, but when we need him the most, against a tough pitcher, he comes through."
As usual, Pujols played a pivotal role in the Cardinals taking two of three from the much-improved Rockies with a three-run, go-ahead homer in the eighth inning Tuesday night followed by a two-run shot in the first inning on Wednesday.
"He's a game-changer," Rockies manager Clint Hurdle said. "That's about as big a compliment as anyone can pay a player."
For some reason, the Rockies and every other team continue to challenge Pujols. This, despite slow starts from his protection, Scott Rolen and Jim Edmonds.
Even though Edmonds is hitting .243 and Rolen has been stuck on 13 RBIs since April 16, partly due to illness, Pujols knows that other teams know their pedigree.
"I have the guys behind me and if they don't pitch to me they're going to make them pay," Pujols said. "If they want to walk me, so what? The idea is to do whatever it takes to win some games."
Copyright 2018 The Associated Press. All rights reserved. This material may not be published, broadcast, rewritten or redistributed. We strive to uphold our values for every story published.