Editor's note: This is one in a series of articles featuring the Lawrence soccer teams that participate in the Premier league of Heartland Soccer Assn.
The U14 KSA Renegades may be a new team playing in its first season together, but they have amassed a 4-1 regular season record and have had some fun doing it.
"We've been doing pretty good for our first season," Adrian Alston-Moore said. "When we win, we like destroy the other teams."
Part of the destruction can be attributed to playing in Division 4, which the Renegades made short work of before moving up to their current place at the top of Division 3. Under the direction of Jason Pendleton, who is also a head coach at Free State High School, the Renegades have plans to win the division and move up to Division 2.
Pendleton focuses his team on the fundamentals of the game, wanting them to understand how the game works and the tactics involved in playing at a high level. He also hopes to raise the expectations for the Renegades while teaching them what they need to be able to compete at the high school level.
"The primary goal is to teach them the game of soccer; winning comes second to that," Pendleton said.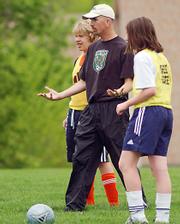 Winning has certainly been a byproduct of learning the game for the Renegades, although Alston-Moore claimed that his coach might think that the attention span of the team isn't always the best.
"He's pretty funny," Alston-Moore said. "He says we pay attention like house cats."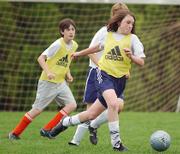 No matter how they pay attention, something has certainly gotten through and the Renegades' next goal is to translate their regular season success to tournament play, an area where they haven't fared as well. The Renegades' next chance to do that is at the Governor's Cup in Topeka over the weekend. They've set the modest goal of moving out of the pool play stage of the tournament.
The Renegades will take their chants, cheers, superstitions and rituals to Topeka with them as well. First is their chant, "Go Gades!" which their coach introduced as an intimidation factor. "Go Renegades!" had proven to big of a mouthful to shout with much force behind it.
There are certain individual rituals as well. Drake DeBiasse listens to a jazz mix before every game to pump himself up, some players go into a sort of meditative state and Enoch Quaye, who admitted he has formed a habit of being a few minutes late, has mastered the art of going through his stretches in the car.
Rituals and cheers aside, the Renegades have accomplished many of their goals this season and will look to knock out one more at the Governor's Cup.
Copyright 2018 The Lawrence Journal-World. All rights reserved. This material may not be published, broadcast, rewritten or redistributed. We strive to uphold our values for every story published.