Description: Has spicy, pungent, rather tough leaves and resembles pine needles in both appearance and aroma. Native to Mediterranean region but now cultivated around the world.
Uses: Variety, most commonly in Italian and French food. Accompanies strong-tasting meats such as lamb, pork, duck and game. Matches well with garlic and red wine and especially good with roasted or grilled meat.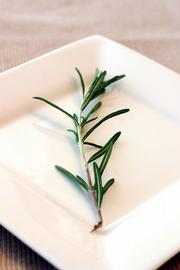 Season: More tender in late spring, in the early part of the season. More resinous, potent and tough by late summer.
Preparation: Dried leaves are sharp and pointy, so chop finely.
Honey, Mustard and Rosemary Pork Roast
3/4 cup beer
1/2 cup Dijon mustard
6 tablespoons honey
1/4 cup olive oil
2 tablespoons chopped fresh rosemary or 1 tablespoon dried
2 tablespoons chopped garlic
1 2-pound boneless pork loin roast
1/2 cup whipping cream
Whisk first six ingredients to blend in 8-by-8-by-2-inch glass baking dish. Add pork and turn to coat. Let stand at room temperature one hour or cover and refrigerate overnight, turning occasionally.
Preheat oven to 350 degrees. Transfer pork to rack set in roasting pan; reserve marinade. Roast until thermometer inserted into center registers 150 degrees, about 55 minutes. Let stand 15 minutes.
Strain marinade into heavy medium saucepan. Add cream and juices from roasting pan. Boil sauce until reduced to 1 1/2 cups, about 15 minutes. Season with salt and pepper.
Slice pork; arrange on platter. Drizzle some sauce over. Serve, passing extra sauce separately.
Sources: "Field Guide to Herbs & Spices" by Aliza Green and Bon Appetit magazine
Copyright 2018 The Lawrence Journal-World. All rights reserved. This material may not be published, broadcast, rewritten or redistributed. We strive to uphold our values for every story published.